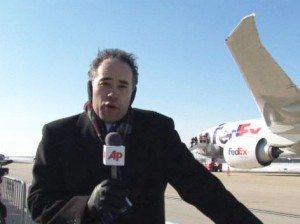 Writing is tough. Anybody who has sweated over a keyboard or notebook knows great writing doesn't come easily. And Lee Powell of the Associated Press says writing for online video is even tougher, with always-now deadlines and an audience whose attention span is notoriously short.
Powell usually works alone, shooting, writing and editing video packages that stream online. This year, he won a national Edward R. Murrow Award  for writing, for a selection of stories he did largely as a solo journalist.
Here he shares some tips on writing for video, especially when you're working alone.
Know your story's personality. Every tale has one. The first part is usually easy: Hard news? Enterprise or investigation? Feature? Figuring it out before you gather elements or very early on in the field gives you focus. It guides what should be shot and how those images will be married with words. A tracked package has different needs than a first person-style story. If I have a hard news story, I know whatever I write will likely carry the piece. So my video needs to back up what I am saying.
I think the second and last lines are key, especially for an online audience who can click away: The second line is my 'nut graf,' revealing what the story is about in a simple, declarative sentence. The last line is a variation of my nut graf, reasserting what the story was about and offering a detail that spins it forward. It tells the viewer my story is ending.
Here is a hard-news story that is not all hard edges:
For a feature, I am looking for strong images and good characters I can build into a series of vignettes or scenes. My writing style is more loose but the words here are short bridges between scenes. They move the story forward by offering little reveals about what is coming next, be it a telling piece of video or a person we will meet. Don't be afraid: If you get bogged down in the material, step back. Say it simply and let the video speak for itself.
Now, a story with personality:
Listen, listen, listen. When I shoot my own material, I'm rolling on anything making noise. When you go to write, natural sound becomes your open, a transition, an exclamation mark, or an ending. When interviewing people, I keep a running log in my head. It's often the only logging I do. Sometimes after a good line or segment, I reposition the camera, reframing my subject. This adds visual variety – and it creates a marker on my tape.
Keep it simple. We're talking stand ups here. For me, they are an important part of the writing process because if done poorly, they kill your flow. I prefer stand-up bridges and I like them short. I decide early on if a story will have one. If so, I start thinking about what I will say, how I will shoot myself and what the lines before and after might be. A good stand up for me is seamless, puts the viewer into the story and comes with information.
Technology helps. When I'm in the field, lines will start coming to me. If I can, I e-mail them to myself. Behind the wheel, the recorder in my phone is handy. Or I use a notes app (Simplenote) I've loaded on my iPhone and iPad that also syncs with my laptop and desktop, letting me pull up my script on any device.
There is no secret formula, Powell says. Writing is always hard work. But developing strategies that save time at the front end, as Powell has done, can save a lot of headaches at the end of the day and improve the final product, too.  Any tips you'd like to share? Let us know.
You might also like
---