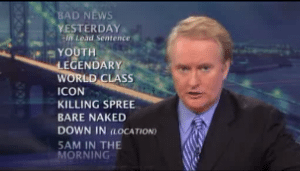 Those words and phrases recently banned by a top executive at Tribune Broadcasting have turned up on television. All 117 of them. In the same piece.
I suppose it was a no brainer to poke fun at the list this way, but in a surprise move the ridicule  comes from Tribune itself. Literally. Larry Mendte, the legendary former Philadelphia anchor who's now doing commentary for Tribune, produced this hilarious send up.
Brilliant, isn't it? While Tribune's Randy Michaels came under fire for putting out a memo forbidding the use of these words,  I have to applaud the effort to eliminate newsspeak.  I've been campaigning against it for years, without much success. Mendte's commentary should be required viewing in newsrooms and classrooms. Hectoring hasn't worked. Maybe mockery will.
PS: In case you were wondering, the words in italics in this post are on the Tribune list. And so they should be.
You might also like
---