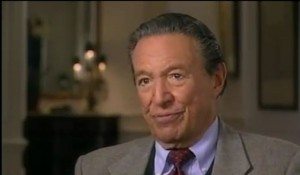 He was a ground breaker who became a CBS News icon; a game show host and pitchman who became such a hard-nosed journalist that his name made up half of "the four most dreaded words in the English language: 'Mike Wallace is here.'" His death at 93 after a long illness occasioned a flood of retrospectives and "end of an era" pronouncements. It marked "not only the passing of a broadcast lion but in many ways also the brand of journalism he helped to define," wrote Meg James in the LA Times.
I beg to differ. Mike Wallace may have set the standard for abrasive, irreverent interviews but that wasn't his only legacy to broadcast journalism. Take the ambush interview, for which Wallace became justifiably famous. He and 60 Minutes producer Don Hewitt eventually decided that chasing people who didn't want to talk generated "more heat than light. We weren't getting a lot of information from those so-called ambushes. So we quit," Wallace told Howard Kurtz on CNN. "I have no doubt that what we started has become a plague."
So, lesson one. Ambush interviews don't really work. They're great theater, not great journalism. And the guy who practically invented the genre gave it up. Imitators should too.
Wallace was at his best in one-on-one sit-down interviews, where he had a knack for asking the questions the audience wanted answered and getting revealing answers. It looked easy. It wasn't. As Wallace told NPR's Morning Edition a few years ago:
One of the most persuasive ways to get somebody that you're interviewing to open up is to write down maybe 50 questions on a notepad. And when you sit down with an interviewee under those circumstances, you become co-conspirators – they suddenly realize, 'He knows a lot about me, so I'm going to help him draw a round picture of me.'
Lesson two: The best interviews come from diligent preparation and planning. Mike Wallace never just showed up to talk to someone. He came prepared. And he wasn't afraid to ask questions that made his subject uncomfortable.
But Wallace wasn't one of those interviewers who talked more than his subjects, trying to show just how smart he was. He listened closely and asked pointed follow-ups.
Lesson three: Short questions can be the most productive–questions like "Why?" or "How?"  And listening in one of the most critical skills any interviewer must possess.
Sure, Mike Wallace spawned lots of imitators in local news who tried to take on his hard-nosed persona and chase down the "bad guys." But it would be a shame if his legacy was all about style and not substance.
You might also like
---