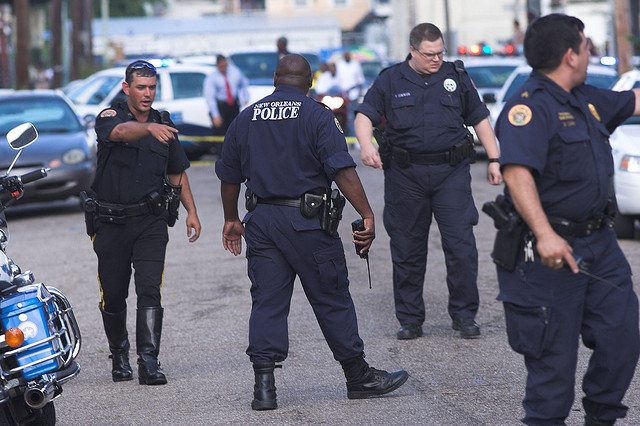 Every news organization covers crime. It's a staple of daily reporting. But not every news organization covers crime as a beat. Too often, crime stories are just accounts of incidents as they occur, with little context or depth. To cover crime well, reporters need to look for patterns and trends as well as for the impact of crime on individuals and communities.
That means spending time on the crime beat, hanging out at police stations, firehouses, and with emergency medical technicians, getting to know their problems and procedures. To begin learning your way around the beat, consider arranging for a ride-along or asking a homicide detective to walk you through an unsolved case. As with any beat, connecting with sources off deadline will pay off with access and information when you're in a crunch.
Nancy Weil of IDG News Service in Boston advises reporters to play by police rules when covering cops. "Don't be rude to them, especially at crime scenes. If they tell you to move back, do it," she says. Avoid at all costs getting them angry at you for any reason, Weil advises. "I have found that cops can hold grudges for all eternity. If one of them gets it in for you, that can infect others and you can be hosed when it comes to trying to build other relationships. If you treat them with respect and handle the stories you write with respect…you'll do a lot to earn their respect in turn and their trust."
Police reporters obviously need to know exactly how crimes are defined. A burglary and a robbery are not the same thing, for example. Misusing terms is a quick way to lose any credibility you've built up with law enforcement sources. Developing a glossary of essential terms can prevent embarrassing mistakes.
Crime reporters also dig for data they can use to develop stories and supplement their coverage online. Crime data that is publicly available can be mapped and posted, creating a searchable data set like this one from Chicago's EveryBlock.
Connecting the dots on the crime beat can lead to powerful stories. NPR correspondent Laura Sullivan won a Peabody for an investigation that found taxpayers footing a $9 billion bill to house inmates too poor to post bail as low as $50. PBS reporter Maria Hinojosa won a Hillman Prize for this story, that revealed how a backlog of crucial evidence denied justice for tens of thousands of rape victims.
To cover courts, reporters must understand the judicial process from beginning to end. They should know what happens when a suspect is arrested, charged, arraigned, makes bail, is tried and sentenced or released. Experienced reporters say the best way to learn the process is to spend time at the courthouse. Begin with the court clerks, who keep track of the docket (the list of cases) and the calendar. Find out how to get copies of the court record, filings and testimony. Some of it will likely be online but even today, much of it will exist only on paper at the courthouse. Read the case files, including motions and pleadings before trial, and keep track of what's reported about the case if you can't be in court every day, which is more typical than not.
Some of the best sources of information on the justice beat are defense attorneys, who are often more willing than prosecutors to talk with reporters about cases they are working on. Do your best to understand legal jargon, but avoid using it in your stories. "Lawyers are counseled to use big words to confuse journalists," says S. L. Alexander, author of Covering the Courts: A Handbook for Journalists. "If you don't know what something means, ask the person you're interviewing to explain it," she advises.
Reporters who cover crime also need to pay attention to the potential impact of the coverage itself. Research has found that news reports tend to feature more minorities as perpetrators of crime and fewer as victims of crime than the actual data would support. According to a study by Travis Dixon of UCLA, mug shots and orange jumpsuits are more likely to be shown in TV reports when the accused is a person of color. A periodic review of what you're putting on the air is one way to make sure the images you use aren't misleading or feeding stereotypes.
Related posts:
Crime reporting tips
Guidelines for covering crime
Interviewing victims
Crime scene photo by Flickr user Derek Bridges
You might also like
---