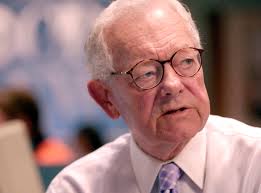 This time, Bob Schieffer says, it's for real. After 46 years with CBS News, he plans to step down as host of Face the Nation and retire this summer. He's talked about retirement before, but it didn't take. The truth is he was having way too much fun to quit. "It's been a great adventure," he said in announcing his decision at the journalism school that bears his name at Texas Christian University, his alma mater.
At the age of 78, having beaten bladder cancer, Schieffer now appears ready to go. His resume is impressive–from Vietnam to the White House–but that's not what I'll remember him for.
When CBS turned to Schieffer to settle things down after Dan Rather was forced out as evening news anchor a decade ago, he brought more than a much-needed sense of calm to the program. He brought his red pencil. And suddenly, TV jargon was out on the evening news. Conversational writing was in. The difference could not have been more stark, or more welcome.
"If there's a fire across the street," Schieffer told the Washington Post at the time, "you don't walk into the newsroom and say, 'A raging, three-alarm fire, whipped by 40-mile-an-hour winds, ripped through the home next door.' You say, 'There's a fire across the street.'"
Schieffer on the air has always been the same guy he is off it. When he told a story, it was just the way he lived it. Here's one that sticks with me: Schieffer recalling his own brush with history on the day President Kennedy was assassinated.
A great adventure, indeed.
I wish I could say Schieffer's lasting legacy was to banish anchor-speak forever. Hasn't happened, has it? I wish his style of questioning–brief and pointed–were the norm for TV journalists. It's not. But he does give us something to point to and aim for.
Thanks, Bob. We'll miss you.
You might also like
---