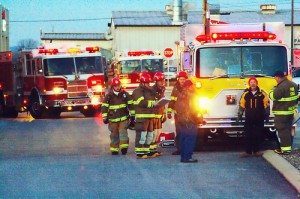 Covering a disaster is different from reporting on routine breaking news. Both require quick thinking and action, but in a crisis, additional issues and concerns kick in. The following tips were developed by NewsLab with input from NJ Burkett of WABC-TV in New York, who covered the 9/11 attacks, the war in Iraq and terrorism in Israel.
Be prepared. Keep credentials with you, always. Carry change—cell phones may not work, but pay phones might. That's what happened in New York City on 9/11. Carry a recorder—disk, DAT or small digital camera–in case you start out alone. Keep a flashlight in your bag. Burkett carries a light with a head mount that can be used hands free. He also carries a supply of Cipro.
Minimize risk. Stay with a partner. It's not hard in TV. But radio folks should do it too, if possible. WNYC radio reporters Beth Fertig and Marianne McCune worked as a team covering 9/11—keeping each other calm, finding eyewitnesses to interview. Be aware of your surroundings and stay as portable as possible, so you can move, if you need to.

Get close (but stay safe). Get away if you have to. As badly as you want to report the story, one 9/11 reporter says, "You can't file if you're dead." Assess whether the cops are blocking you to save your life, or just because. If it's just because, find a way in. If covering riots or violence, don't go in with a marked vehicle. Keep lights off, if they could endanger you. Don't interfere with law enforcement or rescue efforts.

Stay calm. Don't panic, and don't hype the story. Choose words carefully. Watch your tone—don't get too personal and don't shout! (More tips on vocal delivery.) "You are there for the audience," Burkett says. "Project an image of authority, strength and credibility."

Play it straight. Describe what you see. Be clear and accurate. Avoid language that could enflame a situation or cause additional stress or panic. At the same time, Burkett warns, "Avoid offering false hope or a false sense of security."

Avoid speculation. In a crisis situation, you may be going live for extended periods with little information. Studies of live coverage of the Oklahoma City bombing and 9/11 found that journalists reported rumors and used anonymous sources more than they would under ordinary circumstances. Of course people want to know who was responsible, but consider the harm if you "guess" on the air.

Check your sources. Beware of uncorroborated eyewitness reports. "Report only what you know to be true," Burkett says. "What you have witnessed or what reliable and credible witnesses have told you." Even if you saw it yourself, Burkett advises finding first-hand sources to put on the air.

Inform as fully as possible. Correct any misinformation that may have aired or circulated. If you are withholding information (like SWAT team movements) tell the audience why you are doing so. "Do not be afraid to admit what you do not know," Burkett says.

Be compassionate. Think about what impact your words might have on relatives of victims, and be cautious about giving specific details on the air that could identify someone. Let people talk, but know when to stop an interview that may be causing pain. "Do not appear to enjoy the story," Burkett says, "even if you do. Remember, the story is not about you."

Stop and think. What are we missing? What does this mean? Find a way to add context, as soon as the initial incident is over.

Get help. Recognize the impact a disaster has on you. Burkett admits he was in denial for weeks. "I don't think you can wall it off," he says. "You'd have to be a stone to wall it off." More than three years after 9/11, he still finds it difficult to watch tape from that day, and to talk about his experience. Take advantage of resources for journalists coping with trauma.
You might also like
---