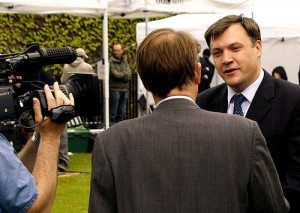 What you get out of an interview is directly related to what you put into it. Even if you're in a rush, which most of us are these days, you owe it to yourself, your subject and most importantly your audience to spent some time preparing for interviews.
Do your homework

Research the person. Ask others about the person, see what has been written about them already. If it's a famous person, you don't want to ask a question that the person has answered hundreds of times unless you can ask it in a very different way. Use the Internet, clipping files, talk to other journalists who have interviewed that person.
Research the subject. You need to know what you are talking about. This establishes your credibility from the start. Check clip files, the Internet, colleagues. The more you know, the better the questions and the better the answers, the better the story. But don't assume that because something has been published it must be true. Use your research as background, not as fact.
Know your purpose
Know what you hope to accomplish in each interview. Do you need factual information or the person's reactions to a situation, or are you looking for a deeper understanding of the person? This will guide you in planning and preparing questions.
Picture the best possible outcome for each interview. Then ask yourself what problems may arise and how you will get over them? For example, know what you will do if the person wants to go off the record. Check this glossary of terms for useful definitions of agreements between sources and reporters.
Plan your questions
Decide where you want to start and how you're likely to end. The first question will set the tone so you may want to prepare an "ice-breaker." You might end with an open-ended question to give the subject a chance to raise something you didn't ask, something along the lines of "Is there anything else I should know?"
If you have difficult or confrontational questions to ask, you might want to save them for the last third of the interview. But if your time is extremely limited, you may want to cut to the chase.
Make a few notes of the issues you want to ask about. You don't have to write down questions and read them verbatim, but do have a cheat sheet handy so you can make sure you haven't left out something important.
You might also like
---