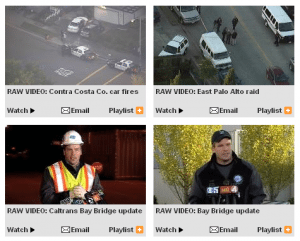 While there's still  some disagreement about what kind of video works best online, especially in terms of length, there's no debate about the value of raw. But not just any raw video will do.
It has to be compelling and visceral, says Andrew Fitzgerald of Current TV, giving users an angle on a story they can't get from text or a photo. If it meets those criteria, "it's perfect for online consumption," Fitzgerald told participants in an RTDNA webinar yesterday.
YouTube users love raw news video, says YT's Olivia Ma. "People hear about a story on the news and come to YouTube to search for more," she says. They want primary source material, unfiltered, and they see raw video as "the real deal."
Raw can obviously be a big draw if you have great video of a major breaking news story–the kind of "you gotta see this" video that can go viral thanks to social media. Here's one example from the Associated Press that got almost 800,000 views in just two days:
But that's not the only way raw pays off.
Since the AP added more raw video to its online offerings, users have been spending more time on the 2000 sites that offer its video player, says the AP's Kevin Roach. The average number of clips watched per visit went up 50 percent, from four to six. "Raw improves time spent if it's surrounded by other good material," Roach says.
You might also like
---