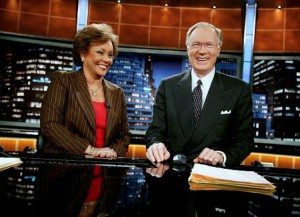 A New York station's decision to dump one of its veteran anchors has people up in arms–and not just the anchor's fans. Sue Simmons is an institution at WNBC, having anchored the news there for 32 years. But at age 68, she's been informed that her contract will not be renewed. So what?
It's not as though Simmons is the only veteran anchor who's been given the boot lately. Al Terzi, the dean of Connecticut TV anchors, was dropped by WFSB just last month in a contract dispute. Romona Robinson was  let go in December after serving as main anchor at WKYC in Cleveland for 15 years. But the Simmons departure has drawn more attention, in part because it happened in the country's biggest media market, but also for other reasons.
Like Terzi, Simmons is in her late 60s. Like Robinson, she's female and black. But unlike either of them, she's had the same co-anchor the entire time she's been on the air at WNBC–Chuck Scarborough. He is also 68 years old and the station just signed him to a three-year extension. No surprise, then, that some critics cried sex discrimination.
The lives of female anchors — remember when they looked like reporters, not strippers? — are measured in dog years now. Men in the same positions can — and do — get old and fat on camera, proudly sporting horrifying comb-overs without missing a beat. Or losing their jobs
Turning Simmons' departure into a debate about sexism misses the mark, another critic wrote, saying it's more about bang for the buck. She was paid an estimated $3 to $5 million a year to anchor just one newscast a day; he gets the same pay and does much more.
Scarborough anchors multiple shows, and to viewers, the group that counts, he comes off as engaged in what he's reporting. Simmons, not so much, and less so in the past year. Some nights Simmons seems as disinterested in the substance of the newscast as a third grader shoved into geometry class.
At least part of the reason Simmons was cut apparently had to do with her lack of participation in promotional events–those personal appearances and charity functions every local anchor is expected to take part in. And then there was this incident, four years ago, in which Simmons was caught cursing on air.
Embarrassing, no doubt. But Simmons' supporters like former WNBC reporter Jay DeDapper still say the station is making a mistake.
Sue is all the things TV news execs claim they need: authentic, irreverent, engaging, interesting. This is a failure of imagination on how to take advantage of an amazing talent and asset in order to build a local TV news brand that people want to watch.
Whatever you think of Simmons, her dismissal is a cautionary tale. It doesn't matter how long you've been in a market or what your relationship is with viewers. If you're getting paid a ton of money, you'd better earn it.
"Our sense is viewers want to connect to anchors who also have reporting chops," WFTV news director Bob Jordan told the Orlando Sentinel. "My advice to someone getting into our business today, who wanted to work in television news, is learn all the skills. The days of having someone who just sits on camera, those days are pretty much over."
You might also like
---