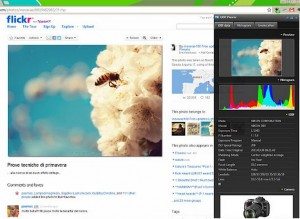 It's an age-old question. How can you be sure the information you're getting is accurate? That basic task of every journalist has become more difficult in today's digital world, when data can be so easily manipulated. But as we've noted here before, technology also makes it easier to detect manipulation. And one very useful piece of technology is an EXIF viewer.
Available as a free add-on for widely used browsers like Chrome and Firefox, an EXIF viewer lets the user see original data that was captured when a photo was taken. Most of that information isn't visible when a photo is uploaded, but it's still there. And finding it can help you verify whether a photo is what it appears to be.
Take the case of Gay Girl in Damascus, a blogger who was active during last year's Arab Spring uprisings and who was eventually revealed to be an American man. NPR obtained photos 'gay girl' had sent to an email correspondent in 2011 and analyzed them.
We found that nine of them matched pictures uploaded by [the male blogger's wife] in 2008 to a public album that has since been made private. We matched up the pictures of a trip to Syria visually, then compared the data embedded in the pictures and found all of them contained the same time stamp and all of the pictures contained the same focal length, aperture and exposure time.
Reporter Russ Ptacek used a similar technique in investigating a county auditor when he worked at at KSHB-TV in Kansas City. He found nude photos in a PhotoBucket account linked to the official that was not password protected.  The photo data showed the type of camera used, making Ptacek confident he was looking at original photos or exact duplicates.
Writing in the IRE Journal, Ptacek details other tools he used in the investigation, which ultimately led to the resignation of the county auditor. He used Spokeo, Intelius and BeenVerified to connect the man's email address to profiles on social networks, which led to the compromising photos.
The services are cheap but not free, costing between $2.95 and $19.95 a month, but Ptacek says they're well worth it.  "Never before I began looking into [this case] had I comprehended the power of cheap databases to conduct a full-scale forensic Internet investigation," he writes. Now, he says, he uses Spokeo more often than LexisNexis because it's especially helpful in finding people who don't have traditional credit or landlines.
KSHB's investigation led to the auditor's resignation and won Ptacek a 2012 Murrow award.
http://youtu.be/rg74xevGc3c
You might also like
---