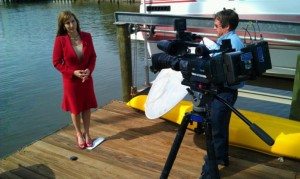 Consumer reporter Jackie Callaway of WFTS in Tampa calls her beat a beast. She's expected to produce two or three quick turns a week and a "deeper dive" every other week, while working long-term on investigative stories. But after heading the station's "Taking Action" franchise for a decade, Callaway says she's learned how to tame the beast, largely by staying organized.
In a piece for the IRE Journal, Callaway shared these tips:
1. Keep an electronic "case file" of notes for every project. Put documents that have not yet been scanned in a file folder with the same label as the case file.
2. File public records requests and gather interviews for big pieces while working on short-term stories.
3. Make sure your tip line system is user-friendly and recruit help for call backs from interns or local college students.
4. Log tips by subject in a database so you can quickly find "go-to" interviews on the topic of the day.
5. Use social media when looking for victims or input on a story. Callaway finds posts on her Facebook page to be particularly useful.
Here's a Callaway story that came from a single tip:
Callaway routinely files open records requests and mines the results for quick turn stories, like a report on the accuracy of airport luggage scales. The data came from FOI requests to regulators in three states.
People are just as important as public records, of course, when it comes to tracking consumer stories. Here are a few of Callaway's favorite sources:
Consumer attorneys who can connect you with victims and share evidence to fill video needs.
Liquidators who sell off what a con man has bought with victims' money.
Economic crimes division officers within law enforcement agencies who may be willing to share information about cases they are working on.
You might also like
---