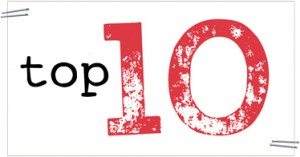 Another year comes to an end with another year-in-review post. I guess you could call it a NewsLab tradition. Taking a look back at the year gone by is one way to get a sense of what NewsLab readers are most interested in; it's also a way of drawing your attention to popular posts you might have missed. Once again this year, readers seemed to gravitate to two subject areas: "how-to's" and "state of the news business."
The shame of starting salaries in TV news. Some issues just won't go away. This piece revisited a column I wrote more than a decade ago, and guess what? Nothing much has changed. New hires in TV newsrooms still make considerably less in terms of purchasing power than I did when I started in this business 40 years ago.
Salaries decline in local TV newsrooms. Sound familiar? For the first time in four years, overall pay in TV news was down in 2013, and there's no indication that trend will be reversed in the year to come.
What's wrong with local TV news. Sensing a theme here? This piece looked at how and why so many local televisions newscasts sound and look alike.
Good news, bad news for local TV. Well, at least there was some good news. Stations raked in a ton of money in 2012, but news viewership was down across the board.
Local TV rises to the occasion in Boston. A guest post by Steve Safran, who lives in Boston, on how local stations covered the marathon bombings.
iPhone reporting goes mainstream.  One of several posts with tips on how to use today's tools for multimedia reporting.
Storytelling the Bob Dotson way. Who wouldn't want tips on telling stories from one of the masters? Posted in December, this piece still managed to crack the year's top ten.
Shooting news with a DSLR. A guest post by Geoff Roth, now the Fox news director in Charlotte, N.C., on the pros and cons of using a DSLR for video.
A reporter's reading list. How to become a better writer? Read more. This list was offered as a starting point and it seems to have filled a need.
15 rules of storytelling, and then some. A personal favorite, this post took advice from a Pixar screenwriter and applied it to TV news.
How to put a TV story puzzle together. Tips from prizewinning photojournalist Nathan Thompson on how he does what he does.  "It's not how much time you have, it's what you do with the time you have."
We'll try to provide more of what you're looking for in 2014, and we'd be delighted to have your support in the form of a donation. Remember, NewsLab has no outside funding whatsoever, so we have to depend on you to keep the site up and running. Thanks, and Happy New Year.
You might also like
---