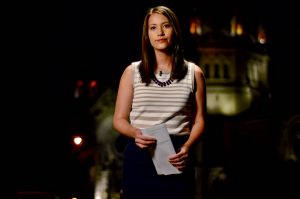 If you're working as an MMJ in your first job and think you won't do it in your second, think again, says Heidi Wigdahl. She's been in the business seven years, starting in market 153 at KTTZ in Rochester, Minnesota, and she's still shooting her own stories in her third job at KARE-TV in Minneapolis.
Her top tip for MMJs is a simple one: Embrace it.
"I've learned you need to love photography and editing," Wigdahl says. "You need to work on it. You could be the best reporter in the world and if your photography and editing is terrible your story is not going to resonate with viewers."
Get better by looking at good work, she advises, but be selective. Don't watch award-winning NPPA stories from two-person teams and say, "I can't do this." Look at the NPPA solo video contest winners and learn what to aspire to.
Wigdahl has lots of good, practical advice for beginning MMJs.
Get there early. "I like to gauge what I'm doing, ask what's going to happen, and figure out logistics. I do a lot of one stop shopping stories, and it's hard to move the story forward when you are stuck in the same setting." Arriving early paid off in this story. Wigdahl was able to get set-up shots outside and inside the school, and to put a wireless lav on the story subject.
Shoot and move. "I start interviews wide, then move to a medium shot, then tight," Wigdahl says. "Then I move the angle of the shot. As soon as you have a great bite, change the angle." If you want to get creative with your interview framing, save it until the end when you're sure you have enough. And before you start and interview, make sure you like the shot. Wigdahl once stopped an interview to move a chair in the background because it was driving her crazy.
Get lots of tight shots. To make editing simpler, shoot about 70% of your shots tight. Consider how you will change the scene and how you will sequence the story, and capture shots that will do the job.
Put your mic close. "Look at the surroundings and think, what sound can I use to make viewers feel they were here?" Wigdahl has put her wireless mic in a ditch to capture the sound of flowers rustling in the wind. She says she always wears headphones to be sure she's capturing what she thinks she is.
Make sure you're recording. "I double punched all the time when I was starting out," Wigdahl says. Look at the counter to see if it's moving and don't leave any shoot without checking what's on your camera. Wigdahl checks the thumbnails of the clips she's recorded to make sure it's really all there.
Write in your head.  Always be thinking of an opening and closing shot and the lines that could go with them.
Log everything. Even though she's shot all the video she'll use in a story, Wigdahl still logs her interviews and nat sound. "If I don't log, my writing into SOTs is so generic," she says. "It saves time because you don't have to go back and listen," she says, and it's a huge help when she writes her web story.
Be brave. Wigdahl says she used to worry about whether moving her camera or microphone at an event would be seen as disruptive. But she realized that if she didn't get the shot or the audio she needed, the audience wouldn't get the full story. "Go ahead and put your mic on the podium if you're not getting good sound," she advises. Do it respectfully, between speakers, but do it.
To improve her craft as an MMJ, Wigdahl says she focuses on one thing at a time–capturing moments, for example, or getting great natural sound. "It's easy to get overwhelmed by the elements you need. Focus for a day, a week or a month until it becomes a habit. Then you can move on."
Photo courtesy of David Peterlinz

You might also like
---