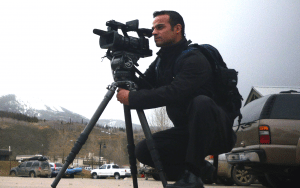 If  there's one thing most solo journalists will agree on, it's that doing it all requires terrific time management skills. Backpack journalist Kevin Torres of KUSA-TV in Denver literally backtimes his entire workday, setting mini-deadlines for every step. That way, he knows when he needs to stop shooting, start writing and finish editing in order to make air. "I try to be as precise as possible," he says. "When I go over on time with one thing I cut from another."
Plan ahead and multi-task
Because a solo journalist is responsible for everything from transportation to transmission, another time saver is to map the route to each location before leaving to avoid backtracking and other delays.  Navigation systems like Garmin or Nuvi are must-haves for many VJs.
Multi-tasking behind the wheel is part of almost every VJ's day. "While on the road, I make phone calls to interview subjects," says Torres. "It's still legal to talk on the phone while driving in Colorado." He also works in close collaboration with KUSA's assignment desk editors, who will make calls for him while he's shooting.
Find fast, free WiFi
Torres says it's a good idea to search the Web in advance for locations with strong WiFi signals to save time feeding in the story.  "The reason I file by WiFi is because the transfer rate is usually faster," says Torres. "My favorite place to transfer from is a hotel. I'll usually set up in a lobby and log in to their WiFi for free." With a phone company air card, Torres says it usually takes about 40 minutes to send a 1:40 package. Using a WiFi connection and the free FTP program FileZilla it typically takes about half as long. On a really fast connection, Torres says, he's fed packages in as little as 3 minutes.
Torres often works the late shift and it's part of his job to cut a separate V/O-SOT on his story for the morning news. Instead of feeding that piece in from the field, he'll save time by putting it on a USB thumb drive and taking it back to the station.
Solo journalists also learn to save time by asking for help when they need it. Some VJs have been known to enlist a bystander to find people to interview so they can keep shooting b-roll.
Torres has been a backpack journalist since 2004 and he's worked hard to become a better photographer. You can see the result of his effort in this story, which just won an honorable mention in the NPPA regional competition for best solo video (in depth).
You might also like
---