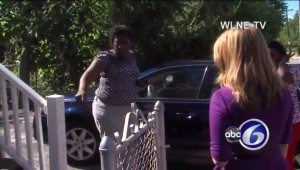 The video went viral, of course. Reporter Abbey Niezgoda of WLNE in Providence, R.I., was reporting reaction to a shooting when she was attacked by the victim's mother. The video shows the woman throwing a rock at the TV crew, threatening them with a baseball bat, and finally sending her two pit bulls after the reporter.
Niezgoda's story makes a point of noting that she and the photojournalist were on a public street when they approached the woman. She also says they intended to leave after the rock-throwing, but the camera keeps rolling, capturing video of the woman with the bat and the dogs chasing the reporter down the street. [The video was posted to YouTube but has since been taken down.]
Was this news? Arguably, yes.  If the woman had sicced her dogs on anyone other than the reporter it would have been news, so the fact that the station was involved didn't make it less newsworthy. The woman was charged with two felony counts of assault. Everybody in town covered her arraignment.  Niezgoda is still recovering from puncture wounds to her arm.  "Emotionally, it's going to take some time for her to get back to where she was," says WLNE general manager Chris Tzianabos.
What are the lessons learned? "It was a stark reminder how dangerous journalism can be," WPRI reporter Tim White told the Providence Phoenix.  Tzianabos says the station held a meeting to remind employees that their safety is paramount and no story is worth risking injury.
But others think the danger could have been avoided. Jim Taricani of WJAR in Providence told the Phoenix the reporter should have approached the woman alone, not with the camera rolling.
When approaching any victim or relative of a victim, there should be sensitivity to the emotional state of the victim or relative. In this case, the woman's child had been shot. It is not surprising that the woman was emotionally upset, and acted irrationally. Any journalist would have realized this shortly after arriving on the scene, and left.
Tzianabos says the WLNE crew had no reason to expect the woman to react violently. She had spoken to a competing station the day before without incident but had said only a few words before cutting the interview off. That's the main reason the photographer started rolling as soon as the woman was spotted in front of her house, Tzianabos said. "They wanted to make sure they got it."
We've written before about interviewing victims; tip #3 is "leave your equipment behind." If the WLNE crew had done that, they might have missed a quick comment from the woman but they could have gained some respect in a neighborhood where the news media are often seen as vultures. They might even have snagged the interview they went out to get.
You might also like
---