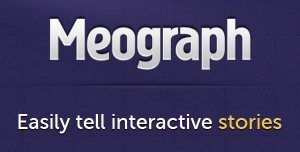 It's a map. It's a timeline. It's photos and video and text and links. But that's not all you get from the new online tool Meograph. You can also add a voice-over to tell a complete story, with the bells and whistles providing context–the fourth dimension, according to the founders.
Other tools, like Vuvox, provide similar options for mashing up timelines and multimedia. Dipity also adds maps. Meograph might be a good fit for a broadcast newsroom's online offerings because the tool makes it easy to add narration in short snippets, but the beta version has lots of issues that make it difficult to deal with.
A few limitations: Unlike Dipity, Meograph won't let you use images from URLs. If you don't have an image you can upload, you're out of luck. The opposite issue exists for video. You can link to a YouTube video, but you can't upload your own. On the plus side, you can easily trim YouTube videos to include just the part you want.
Something else to be aware of: you can only record 15 seconds of voice over using the built in narration function. Anything longer has to be recorded in some other program and uploaded. Not a deal breaker, but good to know before you get started. Meograph also requires you to save every "moment" as you go. Forgetting to do so can require lots of re-tracking. Other issues may be browser specific. I noticed in Chrome that adding a link to one "moment" added it to all others farther down the timeline, forcing me to go in to each one and add a blank link to get rid of it.
Here's a quick tutorial:
If you're willing to put up with the issues, the end result is quite attractive. You can see how it works in this demo Meograph put together to tell the Trayvon Martin story.
One final word of warning: the site went "down for maintenance" without warning while I was in the middle of building a presentation at 5 p.m. on a weekday–not something any newsroom wants to encounter on deadline.
I admit this review is not a rave, but Meograph is still worth a look. Let us know if you decide to try it out in your newsroom, and send us a link so we can see how it worked for you.
You might also like
---