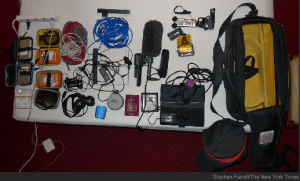 We've all heard and seen what's been happening to journalists trying to cover the uprising in Egypt. Some have been detained and beaten. One Egyptian journalist was shot to death while taking pictures from his office balcony on his mobile phone. What can journalists do to stay safe while still covering a dangerous story?
Watch what you carry and what you carry it in, says New York Times correspondent Stephen Farrell. In a fascinating post on the paper's Lens blog, Farrell describes how he ditched his work bag in favor of a stinky black plastic garbage sack as he made his way to Tahrir Square. And what he put in the trash bag looked less like a professional journalist's kit and more like what an ordinary visitor might bring.
Out went the shoe-mounted camera light for nighttime and indoor interviews, and into the bag went small Petzl headlamps with a bit of orange gel stuck onto the lamp to warm up the light. Not great, but it might make the difference between interviewing a person and interviewing a shadow. And tourists carry them.
Instead of packing "proper" headphones, Farrell went with earbuds. He replaced his tripod with an Octopod, similar to this Gorillapod. His remaining gear "didn't do the job as well, but did it much less conspicuously." And he still carried multiple cell phones and two satellite phones so he could get the story out.
Journalists are working against tough odds to keep the world informed about what's happening in Egypt. They've put their own safety on the line. And now, Farrell says, he's hearing the government may crack down on the accreditation of journalists trying to get to Tahrir Square.
I'm grateful that, in spite of everything, he took the time to share his tips and photos of his gear–both what he took and what he left out.  Check out his full post here.
You might also like
---