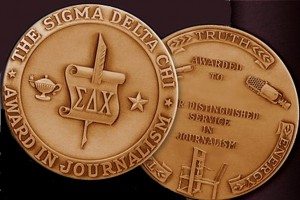 If you've been feeling despondent about the current state of local TV news, just take a look at the latest issue of Quill, the SPJ magazine. Here's all you need to know about the section that cheered me up: Despite the cutbacks in TV newsrooms, some local stations are still producing truly excellent work.
The winners of this year's Sigma Delta Chi awards came from stations as large as KTRK in Houston (market #10) and as small as KTUU in Anchorage (market #150). The winning stories ranged from breaking news coverage to a 30-minute documentary. And the winning journalists have been in the business as few as three years and as many as 28 years or more.
That's quite a range. But as you read the citations, what's striking is what the winners have in common.
WVUE's investigation into a railroad company started with a tip.  "The source was vague, but sure that there were problems," the New Orleans station said. How many times have you failed to follow up on a vague tip? "Listen to the crazies," a longtime investigative journalist once told me. "They may be right." It took WVUE staffers months to pore over thousands of pages of public records, "a huge undertaking for any local news outfit," the judges said. What they found was clear evidence of questionable, if not illegal, activity. The payoff: All 16 members of the railroad's board were force to resign.
KTUU in Anchorage racked up two SDX awards, for feature reporting and for public service journalism for a three-part series on fetal alcohol syndrome. KING in Seattle also scored twice, for investigative reporting and for public service journalism for uncovering how the largest ferry system in the country was wasting millions of taxpayer dollars. Here's just one part of that 20-plus part series, Waste on the Water:
KTRK won for a documentary comparing the BP oil spill in the Gulf of Mexico to the Exxon Valdez disaster in Alaska. Reporter Christine Dobbyn pitched the idea, and served as producer, reporter and writer for the program, "in addition to her daily general assignments."
WRIC in Richmond, Va., was one of the stations honored for breaking news coverage of a gunman who killed members of his own family. Reporter A. J. Lagoe wasn't just the first to go live from the scene in a small, rural county about an hour away. He also was first to report the shooter's identity and the man's apparent motive. How? Thanks to the station's reporting efforts well before the story broke. "We've worked hard…to develop sources and contacts in this community," the station said. Those sources gave the station insights and exclusive information that made WRIC's coverage stand out.
Other winners: Central Florida News 13 for breaking news coverage of a gunman at a local hospital, and KARE in Minneapolis for two of reporter Boyd Huppert's "Land of 10,000 Stories" features.  Here's one of them, the story of LeRoy and Loren, that was shot in a single day:
So what do all these winners have in common? What's the secret of their success?  I think it's pretty simple. Hard work and teamwork. Every one of these stories required effort, persistence and determination. Every one of these stories was the result of close collaboration between reporters and photojournalists. Yes, it helps to have a supportive news director. But all the support in the world can't coax these kinds of stories out of journalists who don't work hard and work together.
You might also like
---