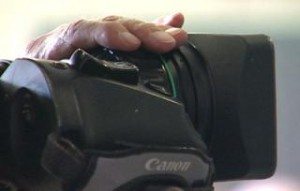 Some of the strongest stories that ever make air or the Web rely exclusively on pictures and sound, with no reporter track. Putting a great nat sound story together isn't easy. If the result is to be more than just a photo essay, you have to create a coherent narrative with the sound you collect. That can require more planning and just as much reporting as any other story. But the results can be powerful.
Here are some tips from experienced photojournalists on how to produce compelling nat sound stories.
Know your story
Know what your story is about and why it should matter to viewers. Having a clear focus helps you decide what kind of sound (and pictures) you need to tell the story. "The sounds you record and the interviews you conduct are your only tools when you hit the edit bay," says photojournalist Tim King, formerly of KATU-TV in Portland, Ore.
Think story structure from the start. Your story needs to introduce the issue and the people involved, explain it, and demonstrate its resolution. Listen for sound that will give you a strong ending to tie up your story. "Within the first few seconds of your story get the subject to tell you the basics," says former NPPA president Dave Wertheimer, "who they are, what they do, what is going on, where are they, and–most important–why. The 'why' is the emotion and the 'what' is the set up."
Capture the sound
Put a wireless lav on your subjects and let them get used to it. Soon, they'll forget they have it on, and what they say will be much more natural.
Get close with a shotgun mic to pick up crisp natural sound that will connect the elements in your story and move it forward. Or place a lav mic on anything that makes noise. Photojournalist Stan Heist, formerly of WBFF-TV in Baltimore, has put microphones on everything from door hinges to dumpsters.
Carry and use a separate audio recorder to pick up "wild sound." Photographer John Goheen says he'll often leave a recorder rolling on the announcer or m.c. of an event while he shoots the action. This "play by play" sound can help in the edit.
Interview differently
Break the "rules" and ask double-barreled questions. Example: Who are you and what are you doing? "It's an easy way to introduce the subject and the story," says photojournalist Bryan Barr, formerly of WBFF in Baltimore. It's also a good way to get responses in complete sentences, containing complete thoughts, which Goheen believes are essential for nat sound stories.
Don't ask questions, make observations. Instead of asking, "How much damage did the storm cause to your home?" try saying, "Wow, what a mess!" People tend to respond as they would in a conversation, instead of providing one or two word answers.
Seek active sound in multiple locations. Talk to people while they're doing something, and repeat your questions at several locations. "This gives me more options later in the edit room," says photographer John Goheen.
Get more sound than you think you need. Goheen often conducts a more formal sit-down interview at the end of the shoot in a quiet location, just for audio purposes. This gives him additional sound he can use V/O.
Don't be afraid to look like a moron. "If you ask someone to re-explain something, they will usually be a lot more descriptive," says Barr. Playing dumb also elicits sound you'll need to construct your narrative. "Make sure that you ask stupid questions," says Wertheimer. Go ahead and ask what the score is and how much time is left in a game, even when the answer is obvious, because you need that information on tape.
Put it together
Log all of your tape and sound before beginning to edit. Create a story outline, and put your sound in order. What would work best at the beginning, in the middle and at the end?
Listen to your story without looking at it. Beware of "implied content"–information you know because you shot the story, but that viewers won't.
Share before air. Have your favorite reporter or producer screen the story to see if you've accomplished your goal. "They weren't there, and if the story makes sense to them, you did it," says Barr.
When you put it all together, a nat sound story can be just as informative as a narrated package and, sometimes, even more engaging. See what you think of this collection of nat paks shot by photojournalist Jordan Arseneau while at WCIA-TV in Champaign, Illinois:
You might also like
---