A combat veteran and photojournalist, Michael McCoy uses photography to cope with his own PTSD and to elevate others through his work.
McCoy's lens has fallen on major news events including Robert Mueller's testimony, Black Lives Matter protests and marches for African American teenagers killed by police.
McCoy began taking photography seriously during his time in the military in his first deployment to Iraq. Before the advent of selfies, he began to take self-portraits to send to his mother to let her know he was safe.
The time he spent in combat, however, changed the course of his life and of his career. McCoy was diagnosed with post-traumatic stress disorder and began to use photography to cope with his stressors and triggers.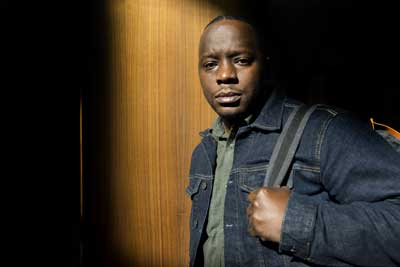 "Living with PTSD, the camera has been a lifesaving tool," McCoy said during an interview at the recent Atlanta Photojournalism Conference.
"This camera keeps me alive," he said. "Some veterans and people that have disabilities walk around with a service dog. My camera is my service dog. Whenever I have it, I feel protected."
McCoy returned to Iraq for a second time, during which time he realized the power of his photographs. He used his skills to lift the morale of his fellow soldiers by taking their portraits for their own families.
"Most of these guys have never had photographs taken of them," McCoy said. "Seeing the smile on their faces after getting their photos taken, I knew I had to keep this up."
While fighting in Iraq for the second time, his mother passed away. He then decided he should begin to document everything, because there is no way to make up the time lost when away. But McCoy also lost a hard drive containing photos of deceased family members and the soldiers who served alongside him.
Upon returning to the United States and being discharged from the Army, McCoy was treated for PTSD at the Walter Reed National Military Medical Center in Bethesda, Maryland, where he documented fellow servicemen returning from war between the times of his own therapy.
As a coping mechanism for himself, McCoy turned to photography as a way to escape and to share the voices of those in a similar condition. At the time, though, McCoy did not know that those images would later appear in both Time magazine and in the New York Times.
"This camera has been a tool to speak for the voiceless," McCoy said. "And that's bigger than any paycheck you could ever receive."
During his time recovering from PTSD, McCoy took his first full-time job as a photojournalist at the Washington Informer, a newspaper aimed at an African American audience.
McCoy never attended a journalism school or had intentions of being a professional photojournalist, yet his work continues to be featured in the New York Times, Time, the Wall Street Journal and Reuters.
Much of his work features African Americans and other minorities. A native of Baltimore, McCoy documented the unrest following the death of Freddie Gray, who died in 2015 after being arrested by police. McCoy has since covered many similar cases.
McCoy says that he is now in a position to elevate the voices of minorities and to help them succeed in journalism.
"Everybody should have an opportunity to show their creative side, and a lot of people aren't afforded that opportunity," McCoy said. "If you were to turn on the TV, you rarely see any photographers that are people of color or women."
In the future, McCoy wants to continue to raise up the voices of those not heard, and he hopes to see more openness and diversity in the media. His advice for those trying to make it in journalism is to "keep shooting and find something that interests you and document the hell out of it."
You might also like
---