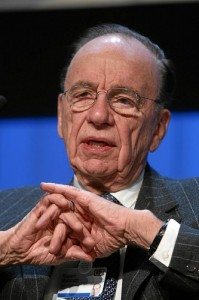 Tired of aggregators "stealing our content," News Corp's Rupert Murdoch is threatening to make his sites invisible to Google and other search engines. "They shouldn't have had [our content] free all the time and I think we've been asleep,"  Murdoch told Sky News, in a conversation focused on his plans to put his sites behind paywalls as early as next year.
"There's not enough advertising in the world to go around to make all websites profitable," Murdoch said. "We'd rather have fewer people coming to our websites, but paying."
News Corp's Wall Street Journal already has a paywall, of course, but Google still links to its content. [And as several people have pointed out since we first posted this piece, going through Google gets you access to everything on the site.]
On the Journal's own site, some stories are freely available. Others are protected so non-subscribers can see only a brief snippet.  As Murdoch puts it, the WSJ wall is "not right to the ceiling." Making his sites invisible to Google would be a step toward closing that gap.
The full interview is worth watching to get a real sense of how Murdoch thinks about online content.
The response from Google? Be our guest. "If publishers want their content to be removed from Google News specifically all they need to do it tell us," the company said in a statement.
You might also like
---