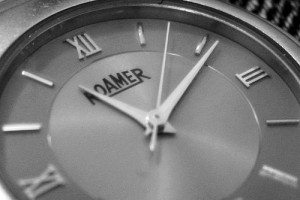 Most solo journalists agree that doing it all on your own requires terrific time management skills. If you're new on the job or just looking for a few new ideas, check these suggestions from other multimedia journalists.
Janie Porter, who works for WTSP-TV in the Tampa-St. Pete market, says you have to take help where you can get it.
Be resourceful – use those curious bystanders to your advantage.  Don't shoo them away – enlist their help in recruiting interviews, getting directions, etc.
Victoria Lim, a freelance multimedia journalist who will soon be doing investigative reporting for Florida's Bright House Sports Network, says you can increase your editing speed by shooting the right type of video.
Close ups close ups close ups.  These get you out of editing jams.  You can never shoot too many of these.
Darren Brown at News9 in Oklahoma City warns against using your video camera as "a giant notepad."  Instead, you might try interviewing your subject off camera first, so you can ask some key questions and limit what you actually record.
For Jessi Chapin at WMBB-TV in Panama City, FL, a strategy of "backtiming the day" seems to work well.
I set mini-deadlines for myself. For instance, I have my interviews and b-roll done by a certain hour. (For the 10 o'clock, I know 8 p.m. is my drop dead time to be back at the station.)  I do the same for writing and editing.
And at a recent SPJ reporters' workshop, we got several other great suggestions from participants.
Pack a lunch!  Make finding food one less thing you have to factor into your day.
Map your story.  Before you head out, determine the locations for your shoots so you can minimize backtracking and other delays.
Throw up a second or two of color bars on a video camera or start a new track on an audio recorder immediately after you hear a good sound bite.  That will make it easier to find when you're logging.
Record any good ideas you have about framing the story or a good line of copy on your phone, voice mail or audio recorder – that way you won't forget it while you're tackling the rest of the story.
Feel free to share your good ideas, too – we'd love to see them posted in the comments.
You might also like
---