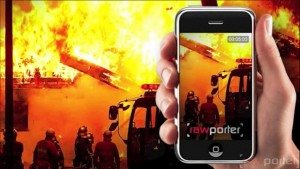 A new mobile app aims to give YouTube a run for its money in the "citizen journalist" assignment game. Rawporter is the latest competitor to YouTube Direct, giving newsrooms the ability to request and rebroadcast video from anyone who happens to be at or near the scene of a news event. What Rawporter offers that's new and different, as far as I can tell, is the ability to set a price in advance for the product. Co-founder Rob Gaige explained the process at a Columbia University social media event over the weekend, according to ReadWriteWeb.
The assignment feature allows producers to tell photographers how much they'll be paid. Photo and video journalists retain rights to the work they create using the app and can share it with their followers on Facebook, Twitter and other social networks.
The free service launched for iPhone last November; an Android app is in the works. Rawporter allows publishers from news organizations to bloggers to solicit either video or stills via geolocation push notices and to pay users for their work. In an interview with the citizen journalism blog NewsMeBack, co-founder Kevin Davis said the tool aims to make it easier for "everyday people to cash in on being in the right place at the right time."
Rawporter wants to help media outlets crowdsource cost-efficient news content that they would normally not have access to. At the same time, it's important to us that our contributors' rights are protected, and that they get the recognition they deserve. That's why, if something sells, contributors get paid. If something is used, they get the on-screen or online credit.
The new reality of local TV newsrooms, which produce more hours of news than ever before, makes these kinds of tools appealing to managers and anathema to professional photojournalists. We've written about this new world in which everyone is a news photographer before. YouTube claims that many news organizations are using its Direct platform to collect citizen reporting about news events, among them ABC News, the Huffington Post, NPR, Politico, the San Francisco Chronicle, the Washington Post, WHDH-TV in Boston, Tribune Company, Gannett, Al Jazeera, and ITN News. Rawporter is so new, it's hard to tell if it's being used at all. The question, once again, is whether these tools are a serious threat to the profession.
My own sense is that newsrooms won't use these services instead of staff photojournalists, but they may turn to them when news breaks where they can't go, or when they can't get somewhere fast enough. But freelancers could face a real pinch if stations find they can reliably and quickly get cheap video of breaking news from a bystander with a smartphone. Beyond that, asking non-journalists to get video in what could be dangerous situations raises all kinds of ethical red flags.
What's your view?
You might also like
---