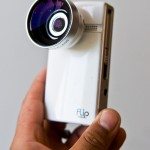 Flip cams have proven their usefulness for certain types of newsgathering. The lack of an external mic creates challenges, but the video quality is quite high. However, the camera was not designed for getting sweeping, panoramic wide shots by any means.
As the saying goes, necessity is the mother of invention and photographer Russ Roca say he needs to have wide angle options on his cameras. So, he modified the Flip.
I bought a cheapie wide-angle lens adapter kit made for more sophisticated camcorders (the one I bought was made by Sunpak). The wide angle lens kit I bought came with a series of step-down rings. I took one of the rings and roughed it up with sandpaper (from a patch kit) and super glued it to the front of the Flip (be sure to glue it so you can still remove the battery cover!). This gave the front element some threads so I could screw on the wide angle lens!
Roca says the set up has the added benefit of mitigating the small camera shake as well. Check out the story he shot with his souped up Flip and thanks to Jeff Cutler for tipping us to this idea.
You might also like
---