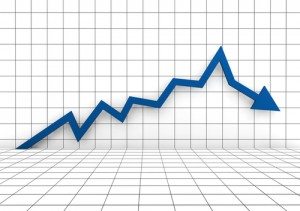 For the first time in four years, local TV news salaries have taken a dive. The latest RTDNA/Hofstra University survey says pay was down on average by almost 2% in 2012. If you factor in the rate of inflation, real wages were down by about 4%.
Just two years ago, TV salaries jumped by more than 7%, and with the worst of the recession in the rearview mirror, some hoped the trend would continue. Fat luck. The long view is even grimmer. Median salaries in almost every job category not only went down last year, they have failed to keep up with inflation over the past ten years.
Who made more? News writers and news assistants, says researcher Bob Papper, but only because the relative few who were hired got nice jumps in pay. The reverse is true in some other job categories.
In fairness, the median salaries of some positions fell because more of them were hired (like executive producers and meteorologists), and new hires tended to be staff expansions filled with lower paid, less experienced people.
EPs are a particularly interesting case. Their average salary has increased the least of any job category over the past decade, just over 6%, while inflation was up 27%. What could explain this? All I can imagine is that producers taking jobs as EPs are willing to settle for less pay, most likely in a smaller market, in order to take that next step up the management ladder.
One more point about this year's salary figures: Unlike last year, small market salaries were stagnant while the biggest markets were the big winners.
Almost all the salaries rose at the biggest stations, but the picture tended to be spottier after that.  And it looks like the smallest stations took advantage of a weak economy and generally hired cheap.
The bad news about salaries is particularly bitter given the recent developments on the station acquisition front. Tribune just dropped $2.7 billion to buy 19 stations from Local TV and Gannett paid $2.2 billionfor 20 Belo stations. We all knew local TV ownership groups were sitting on a bundle of cash. Now we know what they planned to spend it on and it wasn't people.
Arrow chart image via Shutterstock
You might also like
---