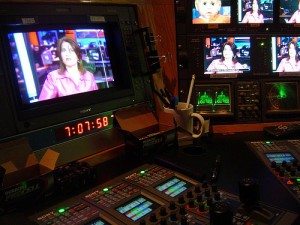 Turn on a local television newscast almost anywhere in the country and you'll see pretty much the same thing: a male-female anchor team delivering the news from behind a desk on a studio set. Sure, there's some variety. Once in a while, the woman anchor sits on the left. But the cookie-cutter look of local news is slowly beginning to change, thanks in part to the crumbling economy.
Stations in markets large and small are overhauling their newscasts. They are using vastly different approaches, but all have the same goal: to shore up declining revenues by drawing more viewers. Their efforts may not pay off, but at least it's encouraging to see stations trying something new for a change.
At WUSA-TV in Washington, D.C., the revamped early morning news looks nothing like the competition. The program appears to be channeling ESPN's SportsCenter. Video that used to be full-screen is now boxed on the upper left side, with a scrolling "rundown" on the right listing upcoming stories and rotating headlines on the bottom. Weather and traffic information, a priority for morning audiences, is always on screen.
"It's a visible strategy that puts information out for people whenever they want it, not when we want to give it to them," says Lane Michaelsen, vice president of the WUSA information center. He calls the rundown a "convenience item" that helps viewers decide when to watch. "They can run to get the paper or brush their teeth and not miss something they want to see."
If viewers can absorb it all without getting a migraine, they can easily catch the top news of the day in less than five minutes. Which raises the question: Why would anyone bother staying tuned longer?
"The hope is we are covering relevant things they want to watch," Michaelsen says. And even if viewers don't stick around for long, he believes they'll come back. "They'll see us as the station that's interested in [their] time."
In Columbus, Ohio, WCMH-TV has torn up the format of its 5:30 p.m. newscast to make it less formal and more interactive. The anchors roam from their desks in the newsroom to the control room, followed by a handheld camera. Reporters discuss their stories in live Q&As. If news is breaking, an anchor may trot up to the assignment desk to ask what's going on.
"We want to bring our customers inside our process and let them peek behind the curtain," says content brand manager Ike Walker, whose title reflects another change in local TV. He might once have been called a news director, but he's now responsible for all local programming — from news to the annual Fourth of July fireworks telecast.
Like other stations around the country, WCMH is using social media to try to involve viewers in the news, asking for feedback and questions for newsmakers via Twitter and Facebook. Incoming comments are featured in a regularly scheduled segment on the restructured 5:30 newscast.
Perhaps the most radical remake so far is underway at Denver's Channel 2 (KWGN-TV), which dumped its traditional 9 p.m. newscast this spring and launched "News on the Deuce" at 7, blending information with entertainment. The station built a new studio — complete with bandstand — so musical groups performing in town can play live during the program.
"It's a news show, but it's also about things for people to do," says Carolyn Kane, vice president of content for the station. "I don't think you have to be murdered for it to be called news."
The newscast's ultimate goal is to attract the younger viewers who already watch the station's prime time lineup from the CW network (home to "Gossip Girl") but who don't tune in to local TV news "because it doesn't speak to them," as Kane puts it.
"We're doing what radio has done well for years — segmenting the audience," she says. "There's no reason we need five stations doing the same thing."
KWGN and WUSA aren't exactly market leaders in news, so they may have little to lose in experimenting with unconventional newscasts. But WCMH, a solid number two in Columbus, could alienate some of its traditional audience as it tries to attract new viewers. Walker concedes the station has received a few angry e-mails but says there's no going back.
"We are at a point in our business where TV stations have to change and try new things," Walker says. "We have to evolve and look ahead. Any station that has not started [evolving] will not be around in a few years. That's how dire our situation is."
If they're candid, news managers would admit they really don't know what kind of retooling it will take to bring viewers back or attract new ones. But after years of denial, they're finally facing up to reality and making changes that would have been unthinkable just a few years ago.
Desperation can have that effect. As Samuel Johnson once said: "Depend upon it, sir, when a man knows he is to be hanged in a fortnight, it concentrates his mind wonderfully."
Originally published in American Journalism Review, June/July 2009
You might also like
---