Stories on local TV news just seem to keep getting shorter. From all indications, the average big market package runs about 1:15 these days. So it's unusual, to say the least, for a station to not only buck the trend but to create a new program to showcase longer stories.But that's exactly what's happened at WFOR-TV.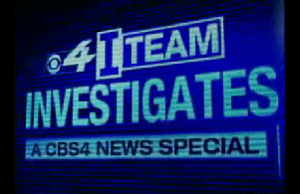 The CBS station in Miami launched a new half-hour program in November featuring stories produced by its I-Team. Each story runs six or seven minutes, and the program airs in place of the 6:30 p.m. Sunday newscast, just before 60 Minutes. "The style, tone and feel is 60 Minutes," says news director Adrienne Roark. But the stories are all local. South Florida, she says, is a rich target for investigative journalists.
The first program featured reports on Medicare fraud, pollution connected with construction of a new baseball stadium, and dangerous truckers. Two more have aired since then, and the station has committed to running one special per month.
How is that possible in a time of cost cutting and layoffs? As we noted earlier this year, WFOR has one of the biggest local I-Teams in the country, with three full-time reporters and general assignment reporters who also do investigations. Roark says they all have multiple stories in the pipeline on any given week. Timely stories with broad appeal and "amazing" elements that can sustain five or six minutes are now being targeted for the monthly special, "4 I-Team Investigates."
WFOR isn't the first station to try something along these lines. About five years ago, KPIX, the CBS station in San Francisco, launched '30 Minutes: Bay Area,' an investigative special that also ran just before 60 Minutes but only aired quarterly.  "The stories were just plain excellent," news director Dan Rosenheim said via email, "but we were not able to find a sponsor and could not sustain the effort."
The WFOR program airs with just two commercial breaks–fewer than the newscast it replaces. Eventually, Roark hopes to be able to sell the program. For now, she's scheduling stories for January and February. "If we can get rolling, we'd do two a month," Roark says.
You might also like
---