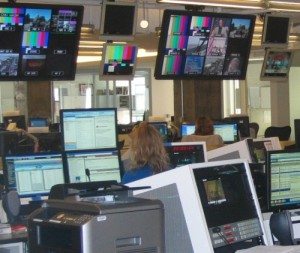 B-Roll.Net
Lists jobs for photojournalists.
Broadcast Executive Directors career page
Listings from the Broadcast Executive Directors Assn.
Corporation for Public Broadcasting
Listing of jobs in public television and radio.
Indeed (Television News) Free, searchable site; info can be sorted by salary range, company, job title and location.
Indiana University job page
Journalism school's links to job listings.
IRE Job Center
Investigative Reporters and Editors lists investigative journalism jobs.
Journalist's Toolbox
Extensive list of links to job sites, plus advice under the "careers" link on how to create a resume tape.
Journalism Jobs
A job board for journalism professionals in all media.
Media Bistro
Listings can be searched free, by industry.
MediaLine
Subscription-based listings, with daily job spotlight.
National Association of Broadcasters
Searchable job listings, free.
NATAS
Free job listings, searchable.
NPPA
Job listings are under member services, for members only.
RTDNA
Searchable database of broadcast job listings.
Shoptalk
Free listings of job openings by category.
BEA Job Bank
Teaching jobs posted by the Broadcast Education Association.
TV Jobs
Subscription (fee-based) service listing broadcast jobs.
TV Staff
Executive search firm posts a few news jobs.
TV Newz
Limited job listings, but free.
University of California-Berkeley job page
Journalism School job listings.
Variety Careers
Search under Writing/Journalism.
You might also like
---