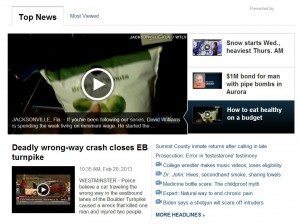 Of course you have video on your website. Doesn't everyone? But what is it, exactly?
Putting TV clips on the Web is a no-brainer, says NBC News chief digital officer Vivian Schiller, but it's not a game changer. What is? No one really knows yet, but there's lots of experimentation underway.
Schiller told the Beet-TV Big Data Summit that she's watching it all closely–everything from all-video start-ups like Now This News to the online news-talk channel Huffington Post Live. And she indicated that NBC plans to do more with original "web-native video content" over the course of the next year as it redesigns NBCNews.com as a "rich journalism destination."
This is the interactive Schiller mentioned that shows gun deaths over MLK weekend. It's an example of a story extracted from data that ties in to a network-wide project on guns in America.
You might also like
---