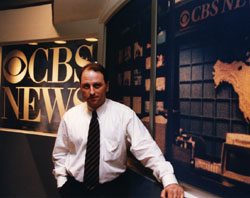 Whoever said news about important subjects doesn't sell? CBS News chairman Jeff Fager is happy to contradict them. The ratings for 60 Minutes, he says, make it clear that Americans are hungry for that kind of reporting. His goal now is to make the rest of CBS News more like the Sunday evening program, with a focus on investigative stories.
"It's expensive, difficult and risky," Fager told the Excellence in Journalism conference in New Orleans yesterday. But it's been the key to what he called "our renaissance." When Fager took over at 60 Minutes in 2004, he says, the program was losing audience at the rate of 10% a year. "We were in a rut, putting stories together that could hold, that were evergreens." John Stewart even joked at the time that the program's slogan was "may cause drowsiness." Not any more.
Fager didn't pull any punches when talking about CBS or its competitors. He frankly admitted that the documents CBS 60 Minutes 2 used for its now-discredited story about George Bush and his National Guard service were "questionable." Worse, he said, the reporting of the story was flawed from the start. "They had their minds made up before they want out to report the story," he said. "When you do that, you tend to leave mitigating factors out and that spells disaster."
Asked about news organizations paying "licensing fees" for video and other material, Fager said CBS doesn't do it and won't. And he took a direct swipe at ABC News for paying $200,000 for video and photos from murder suspect Casey Anthony. ABC said there was no connection between the payment and any interview with Anthony. "That's insane," Fager said."If there is any suggestion that we have to pay for a story, we walk away." ABC quietly got out of the business of paying news subjects this summer.
He was equally skeptical of claims by British newspaper editors that they were unaware that reporters were getting information from hacked cell phones. "I ask several times a week, 'How did you get that?'" Fager said. "And they didn't know?"
As Fager tries to "trickle down" what's good about 60 Minutes' to the rest of CBS News, he plans to share more stories online and more about those stories, the way 60 Minutes does with its Overtime section. Will he put every story they've ever done online? Nope. "They're not all that good," Fager said.
You might also like
---