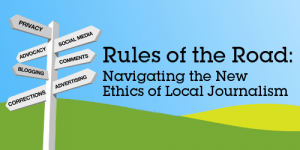 Do independent hyperlocal news sites face different ethical challenges than bigger news organizations? Yes, according to a new report, Rules of the Road, from American University's J-Lab. Author Scott Rosenberg says hyperlocal sites have "fewer traditions and rules and more confusingly blurred boundaries." So how are they handling these challenges?
Like small newspapers–and, I would add, radio stations–hyperlocal sites don't just cover the communities they serve, they're part of those communities. That affects how they handle everything from police reports to online comments. A few of the key takeaways:
Police news
Most sites won't publish many of the names and photos in police reports. Thanks to search engines, these reports can follow someone forever. Says Liz George of Baristanet, "We do really have a lot of Google power and we don't want to use it to ruin somebody's life." One site has a policy of deleting all police items after six months.
Social media
Many sites treat Facebook profile material that's "friend only" as private information. Most view tweets as public information and use them accordingly. Says Mike Orren of Pegasus News, "In our shop we had clear rules: It was fair game if you could access their page without being their friend."
Comments
Most sites try to require commenters to use their real names. Many review all comments before publication. Their thinking is much the same as that of large news organizations that have switched to Facebook Connect for comments: it keeps conversations civil. "The comments on the other TV, print, paper websites are sort of like the sewer," says Paul Bass of the New Haven Independent. "They don't want to spend the money [to moderate comments]."
Advocacy
Most sites do not subscribe to the concept of impartiality, choosing instead to promote certain issues or even crusade for specific causes. "If we can do anything to make Telegraph Avenue less crappy, I don't see that as abandoning our position above the fray," says Lance Knobel of Berkeleyside. "I see that as we've done something great for the city we live and work in."
Business and advertising
One of the biggest challenges isn't unique to online sites–it's how to keep the journalism and the business side separate when one person or a few people do it all. "There's a constant tug of war," says David Boraks of Davidson News.  "We write about advertisers on our site. It's inevitable in a small community. I try to make sure that I write about all the businesses here, not just the ones that advertise with me."
Small papers and radio stations learned long ago that digging up dirt on anyone in the community, especially advertisers, will make them angry and you'll hear about it directly. But as Don Heider, founder of the Center for Digital Ethics and Policy at Loyola University in Chicago, notes, "they'll get what you're doing overall, eventually, if you're fair."
Read more about how some of these hyperlocal news sites do their jobs in American Journalism Review.
You might also like
---