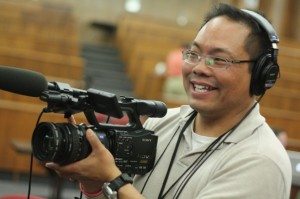 Brett Akagi surprised more than a few people when he left a great job as director of photography for KARE and moved to what his TV colleagues called "the dark side." As senior video producer for the Minneapolis Star-Tribune, Akagi's mission was to help the newspaper become competitive in online video. The goal, in effect, was to beat TV at its own game.
Now, 18 months later, Akagi is going back to what his newspaper colleagues call "the dark side," returning to TV as assistant news director for KSHB in Kansas City. "I'll have more responsibility in shaping a newsroom and that excites me," he says.
Under Akagi, the Star Tribune won multiple video awards. He shot and narrated stories himself as a multimedia journalist. He introduced print reporters to video by having them talk about their stories on camera, as in this piece about the aftermath of a traffic stop that won a regional Murrow for hard news. He got the paper in the streaming video game, too. During the recount for the Franken-Coleman U.S. Senate race in 2009, the paper's live stream logged five million viewing minutes over five days.
Akagi also built a newsroom studio and a midday newscast, NewsBreak, for the paper's website but his bosses pulled the plug on it after a year. Akagi admits "the numbers weren't great at times." Terry Sauer, the paper's assistant managing editor/digital, says the show involved "too much video in the building" and was sometimes dated before it hit the Web. "We wanted to refocus on live events that people really want to see. "
Akagi says he learned a lot at the paper about what works in online video. "As long as it's interesting, people will watch," whether it's a well-produced package or dash cam video from a police cruiser. "You need a nice mix," Akagi says. Video views overall doubled while he was at the Star-Tribune, he says. "We were able to prove how viable video was for their product."
Sauer is sad to see Akagi go. "He set very high standards," Sauer says. "He will leave a legacy. We are down the road so much farther than we were when he got here."
Returning to TV will probably be a smoother transition for Akagi than going in the other direction. The newspaper culture wasn't like what he was used to. "The deadline mentality is different," he says. Newspaper reporters don't think visually. Still photographers understand composition and capturing moments, he said, but it's hard for them to be storytellers. They're not used to worrying about sound or actively thinking about story focus. And teamwork with reporters was "a foreign concept," Akagi says. "They cover the same story but they go after different things."
So is he going back to the dark side or leaving it behind? "There is no dark side," Akaki says. "It's all melding anyway. It"s all about making it better."
You might also like
---