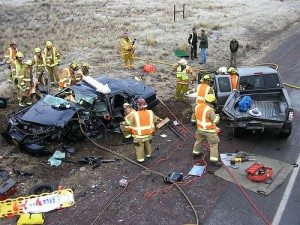 If you cover breaking news in just about any local market, you've probably had to come to terms with a new reality.  Someone else is going to get pictures before you do. Their video may not be as good as yours, but they've probably captured something you've missed. So now what?
"After 45 years of chasing news professionally, I realize I cannot be first on the scene with a camera unless I am the first one on the scene," says WCVB photojournalist Stanley Forman in the latest issue of NPPA News Photographer magazine.
The problem [is] that as a long-time news photographer, I cannot beat the competition any more. The competition is anyone who has a cell phone, smart phone or any other portable device that takes still or video. The other problem is that practically everyone has the technology and knows what to do with it.
Forman says this new reality has changed the way he approaches breaking news. He still tries to beat the other stations to the scene and shoots the best video he can right away. But now, he has an additional task: Find the best images other people have shot and secure them for his station.
"I do well on the search for the best stuff available because my station sort of allows me to make offers to the owner of the images with a financial reward," Forman writes. Right there on the spot, he screens what others have shot and decides if it's "good enough" to offer to purchase it.
Has the new reality changed the way you operate in the field on breaking news? I'd be curious to know how.
You might also like
---