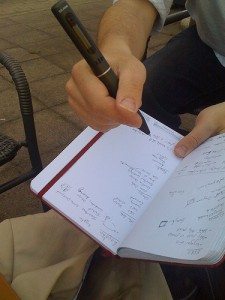 Taking notes used to be a simple matter. You pulled out a pen and a pad of paper and you wrote things down. Over time, if you developed your own shorthand, you could take notes faster and more accurately. If you could read your own shorthand months later, you were a pro. Laptops changed the game but copying and pasting raised the risk of forgetting where information came from. Trying to keep track of websites, photos, text messages and more means note-taking today can be complicated but it doesn't have to be, thanks to a growing number of free digital tools.
Lots of journalists I know swear by Evernote, which can capture text, Web clips, photos, and more. ICFJ's Dana Liebelson calls it "a deceptively simple tool" with a powerful search engine for keywords, titles and tags. It works on Windows and Mac, as well as smart phones.
Catch (formerly 3Banana) also works on all platforms and captures notes as well as photos.  The mobile version lets you geotag information and quickly share notes via social media.
Zotero is a browser extension for Firefox designed for researchers to collect, organize and share sources. Notes taken on one computer can be synced with another and can be accessed via smartphone.
Not free, but very cool, is Livescribe, a pen that stores digital notes. Chris Smith writes at LifeHack that it's his favorite tool because the written notes are searchable and synced with audio that's recorded at the same time the notes were taken. The basic software also allows you to send your digital notes to Facebook and Evernote.
All of these tools will do more or different things from the two I use most often: Delicious, a social bookmarking site I use for saving URLs and clips so I can access them anywhere, and Dropbox for saving and sharing documents. I haven't experimented enough with any of them to rate one as better than another (and I haven't plunked down the big bucks for a Livescribe), but it's good to know these tools are out there. If you have comments on any of them or more to add to the list, please do.
You might also like
---