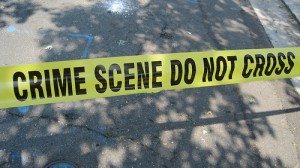 For many journalists, covering crime is their least favorite part of being on general assignment. The late shift at many stations is a steady diet of crime scenes and victims. Lots of newsrooms send their greenest reporters out on crime stories, perhaps figuring they're easy to cover with cops providing "the facts" and with "good video" like flashing lights and yellow police tape. But reporters who specialize in covering cops and crime know better.
One of the best local TV crime reporters I know recently left the beat after more than 30 years. Caroline Lowe, formerly of WCCO in Minneapolis, says police officials are notoriously reluctant to provide information to journalists. But if you know their rules, regulations and procedures, she says, you can ask better questions and improve your chances of learning what you want to know. In other words, a good crime reporter studies the beat.
Lowe did more than that. While working the beat, she earned a BS in law enforcement and a graduate degree in police leadership. Her studies gave her insights, she says, that helped her build relationships with police sources and tell stories that made a difference. "Nothing is more satisfying than doing a story that helps a victim or leads to positive change in the system," says Lowe, now a bureau chief for KSBY in Santa Maria, Calif.
A feature on Lowe in the August issue of Minneapolis-St.Paul Magazine describes her as a detail-focused pack rat and "the queen of multiple confirmation," who treated everyone from cops to victims fairly.
Lowe would make dozens of follow-up calls…to achieve a consensus and to protect her sources' identities. If reporters sought to interview a victim's family, nine times out of 10, Lowe was the first reporter invited in—because they'd seen her handle other crimes with sensitivity.
"One of the things I most respect about Caroline is she has empathy for everybody and she respects everybody's dignity, no matter who they were or what neighborhood they were in," says WCCO photojournalist Dave Chaney.
A good crime reporter also has to be tough, of course, to spend so much time covering painful stories. Lowe was plenty tough–not just on criminals but on "bad" cops. She won a duPont-Columbia award for an investigation that found police officers sleeping on the job.
Like every good beat reporter, Lowe specialized in cultivating sources and knowing how to reach them at any hour of the day. As WCCO anchor Frank Vascarello puts it: "What Caroline knows can't be Googled."
You might also like
---