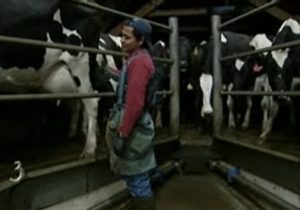 Sometimes you find the best stories just by taking a closer look at what's already in plain sight. What WCAX-TV reporter Kristin Carlson saw was a Vermont dairy industry in such dire straits that farmers willingly broke the law to hire help so they could stay in business. Her three-part series, Foreigners on the Farm, won a 2010 duPont-Columbia Silver Baton.
"The team got unprecedented access to both farmers and illegal Hispanic workers who shared personal stories publicly for the first time about why they were breaking the law," the duPont citation reads. "The report also pressed state and federal officials about whether they are complicit in allowing these illegal workers to live and work in Vermont. The exemplary reports neither advocate nor condemn the hiring practice, but instead inform the audience about what's going on in the barn next door."
A Vermont native who has worked at WCAX for 11 years, Carlson had instant credibility in the community, which helped open some doors. But the story wasn't easy to report. Carlson says she first tried to pursue it by going through farm labor groups but they wouldn't help. She also tried just showing up at farms where immigrants worked but no one would speak with her. Eventually, she met a farmer at a meeting and spent a year cultivating a relationship with him before he agreed to talk on camera.
"He was sick of it," Carlson said. "He was an honest, hardworking farmer whose entire business was based on breaking the law. He hoped that if it got into the open, there could be a solution."
Carlson says she discussed the possible repercussions of her report with everyone she spoke to but they were all willing to participate. After the series aired, the farmer was subpoenaed by a federal grand jury but never had to testify. One of the workers was detained and questioned, but eventually released and returned to Mexico.
Immigration's intersection with business is a story in every part of the country, Carlson says. "If it's happening in rural Vermont, I can't fathom how much of our economy is based on this." For ideas on how you can tell that story in your community, check this RTDNA tipsheet.
You might also like
---