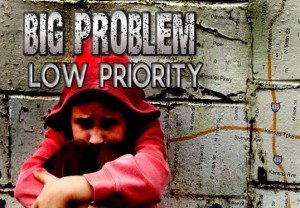 Congratulations to KCTV in Kansas City and chief investigative reporter Dana Wright, who just won a 2011 Casey Medal for distinguished coverage of children and families, particularly the disadvantaged. The winning entry was a five-part series, "Big problem, low priority," that looked at the plight of homeless children in Kansas City, Kansas. The station isn't just the only local TV winner on the list, the runners-up in the video short form category that KCTV won were CBS's 60 Minutes and PBS's NewsHour. Pretty good company.
The judges said "the stories were engaging, even shocking: The average age of homeless children there is 7, poor students are taxied long distances to school. Moreover, there was nothing gimmicky about the reporting or the production values. Today, that fact alone qualifies as a 'fresh take.'"
Here's part one.
Worth noting: the series doesn't just lay out the problems but also looks into solutions. By the time the last segment aired, local officials had committed to making more shelter beds available in the county.
Parts two, three, four and five are also online.
You might also like
---