The recent FCC report on the future of the news media pinned some of the blame for the lack of depth in  TV news on the decline of beat reporting at local stations.
On average, local news has become thinner, not deeper. The amount of coverage dedicated to important public issues—like education, health, or government—remains tiny, according to several studies. The amount dedicated to crime seems as high, if not higher, than ever. In depth, investigative, and beat reporting are declining.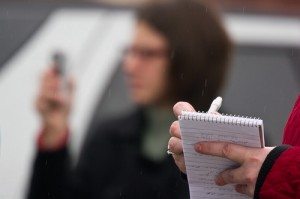 No real argument there. But it's not really news to anyone in the business. And as TVNewsCheck reports, some stations are trying to redefine and revive their beat systems.
At WGN in Chicago, for example, reporters track topics they have either expertise or interest in, but they don't cover them exclusively.  Other stations are bringing back beats or creating beats specific to their markets. WNBC in New York is reviving the consumer and health beats that were axed during the depth of the recession. KNSD in San Diego, home of the Pacific Fleet, has a military beat reporter.
As I read all of that, it struck me that I'd read it all before. As it turns out, I'd written it–in 1999. The names have changed but the approach now is much the same as it was then.
Beat systems–assigning journalists to cover a specific topic or geographic area–appear to be making inroads in local television newsrooms, which for years have been staffed mainly by general assignment reporters. But there's no one-size-fits-all formula: the systems vary widely, from stations where every reporter is assigned to a beat full time, to those where just a few reporters have approved "areas of interest."
Just goes to show you that in television news, as in life, what goes around comes around.
You might also like
---