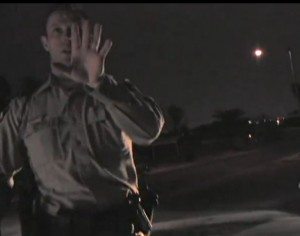 Finally, some good news. Two pending cases against police departments for civil rights violations have been settled in favor of the photographers. What's not clear is what impact the settlements will have on the continuing problem of professional photojournalists being arrested for doing their jobs.
In the first case, Las Vegas police have agreed to pay $100,000 to a freelance videographer who said he was beaten by an officer last year while shooting video of an investigation across the street from his house. Mitchell Crooks was standing in his own driveway but was arrested for trespassing, battery against an officer and resisting arrest.
The charges against Crooks were dropped and the officer involved was fired last December. Just a year after the incident, Crooks won his counter suit.
The second case took much longer to play out. Simon Glik claimed he was wrongly arrested in 2007 for using his cellphone to record Boston police as they arrested a man in a public park. The city of Boston has agreed to pay him $170,000 for violating his civil rights.
Another case will be in the works soon. A Florida man arrested in January for recording police with his smartphone plans to sue for $200,000 now that the charges against him have been dropped. Steve Horrigan's attorney said penalizing the city would be a necessary step forward, but not sufficient. "I think training and educating police in First and Fourth amendment rights is an important part of it," Andrea Mogensen  said. "Hopefully, that will change the way law enforcement does its work."
Perhaps, but citizens' rights already are part of the curriculum in every police academy, says John Timoney, former police chief in Miami and Philadelphia. And so far, there's no indication that the risk of civil rights lawsuits has had any effect on the behavior of police. The latest case comes from Santa Cruz, California, where a longtime photojournalist faces trial for conspiracy and trespassing for covering an "Occupy" demonstration. Journalism groups have protested the arrest of Bradley Stuart Allen, suggesting he's being singled out because he represents a "disfavored" news organization, the San Francisco Bay Area Independent Media Center.
The settlements in Las Vegas and Boston aren't chump change, so they may cause police in those cities to sit up and take notice. But will any other police departments pay attention and be deterred from arresting people who lawfully photograph and record them?
You might also like
---