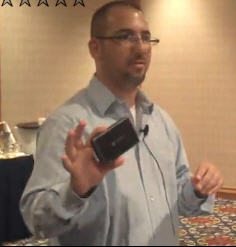 More than a year ago CNN announced it was hiring what they call "all-platform journalists" to expand their coverage in ten U.S. cities. So far, they've hired four.
Victor Hernandez, director of coverage, says it's because they've had trouble finding people who meet all their criteria. Speaking to a crowd of broadcast journalists at an RTNDA workshop, Hernandez said he's looking for people who exemplify four core attributes:
Strong editorially
Technically superior
On-air presence
Exceptional mindset
Hernandez says the mindset is most important of all. He wants their APJs to be platform agnostic.
"I want them to look at storytelling content and not be beholden to precedent and the way things have always been done," Hernandez said."It's the ability to look at each story and figure out the best platform."
The reporters they've hired so far are not working on "day turns," rather they typically have several days to develop a single story. The goal, too, is to hire people with a unique style.
"It's really the 'anti-TV' reporter in terms of look," Hernandez said. "We want someone free-spirited, off-the-cuff, interactive."
The APJs have to be very comfortable with digital technologies as well, says Hernandez; for example, he wants them to already know Final Cut Pro. Though they will get some training, they have to come in the door with tangible skills.
That's because they're going to need to work with an extensive multimedia toolkit and to feel comfortable trying out technological set-ups that may have never been used before — like the system CNN designed for getting high-resolution still photos back to the newsroom online and in just minutes.
CNN All Platform Gear:
-Sony Z1UHD camera (changing to EX1/EX3)
-Canon still camera
-Flip cam
-MacBook Pro
-Smart phones
-Air card
-Sat phones

Hernandez says the technological advances are making amazing things possible.
"Anderson Cooper was live for an entire week in Afghanistan through IPTV," Hernandez said. "There was no traditional satellite equipment. We did it all through Skype and other internal apps. The quality was almost indistinguishable from what we see from a satellite, but the cost is about 1o percent."
Hernandez hopes these new tools can help energize his own news operation, help journalists to think differently about what might be possible, even in tough economic times.
"I want us to get that start-up mentality," Hernandez said. "You know, that 'find the next thing or you won't eat next week' approach."
You might also like
---