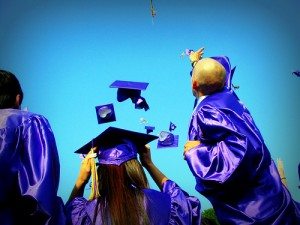 What would you tell a group of freshly-minted journalism and mass comm graduates about the future that awaits them? I asked that question on several social networks to prepare for a commencement speech last weekend at the University of North Carolina at Chapel Hill.
"Your real education begins today," wrote Kim Green of WNCN-TV in Raleigh, N.C. "What you know [about] journalism today will have a different meaning in two years."
"Be versatile," wrote reporter Ben Winslow of Fox13 in Salt Lake City. "Adapt to survive."
WMAZ-TV news director Jeff Ofgang had similar advice. "Learn as many skills as you can, because you're not just in the 'TV News' business anymore. Or the 'newspaper' business."
"How exciting to be in such a challenging field in a challenging time," wrote Barbara Magana, former assignment editor at KPRC-TV in Houston.
"I would say it's one of the most exciting times in journalism," wrote former CNN producer Donna Liu . "They will determine the future of news, but they must be original thinkers."
USA Today reporter Kathy Kiely, who also teaches at American University, agreed with Donna. "No better time to be a news newbie than now," she wrote. "Out of chaos comes opportunity. I hope one of my students hires me someday!"
Independent producer Bruce Bowers, who struck out on his own after two decades in TV news, offered this advice: "Reconsider? Journalism may not be a viable way of making a living for much longer… So good luck – and be sure you have a 'Plan B.'"
So what did I tell them? Most of the above. Here's the text:
It's an honor to be with you today and to be back in a place I love. I just have one question for the graduates in the room.
What on earth were you thinking?
You majored in journalism and the business as we knew it is imploding. You majored in advertising and the bottom has dropped out of the market. You majored in PR, and you're leaving school without doing a case study on Tiger Woods? Okay, so maybe that was on the final.
One thing I know for sure: you're not leaving Carolina without a very clear sense of the reality that awaits you. And let's face it, in some ways that reality isn't pretty.
One in five newspaper jobs lost since 2001. Television newsrooms shrinking. Advertising revenue down sharply. More of it is moving online, but not enough to be sustainable…not yet, anyway.
I'm not going to dwell on this, because you already know it, and besides, it's not as if you're the only ones facing an uncertain future. Anyone graduating from college right now is in a tough spot. The biggest winners at this point appear to be…grad schools.
I'm sure that you (or your parents) just spent a boatload of money to get a degree from a great school and now you're wondering what it's worth. Is anyone going to pay you to put the skills you've acquired to use? Will they pay you enough to repay your loans? OK, will they pay you enough so you can finally stop eating ramen?
The answers, if you're keeping score: Maybe. Not any time soon. And…eventually.
You all know what awaits you, right? Stress. Low pay. Hard work. Few opportunities for promotion.
I got that list from a survey of new journalism graduates like many of you…only it was conducted in1989.
So…20 years ago, young people just like you left college with journalism degrees knowing full well what they were getting into and they did it anyway. What were THEY thinking? Either A) they weren't very bright, or B) they had the audacity to believe that what they wanted to do would be worth the personal sacrifice they knew it was going to take.
I choose (B).
You know what they knew. You know it's going to be tough. It always has been….even back when I started out.
Yes, the journalism world today is dramatically different from the one I entered when I left Carolina with a degree you can't even get any more: a BA in Radio, Television and Motion Pictures. Isn't that quaint? It seemed very forward looking at the time, even if it was known here on campus as RUDDYVUMP.
And if you had asked any of us what journalism would look like almost 40 years later, no one would have envisioned where we are today.
The internet? Mobile video? Are you kidding? The personal computer hadn't been invented yet. Phones were not smart.
Let me give you a quick tour of the first newsrooms I worked in.
Manual typewriters.  (Yes, electric typewriters existed, but most newsrooms didn't use them—way too expensive.  It was LOUD in newsrooms then).
Reel to reel audio tape and video tape that was two inches wide. To edit, you sliced out a chunk with a razor and taped it back together. It wasn't pretty.
Film cameras that had to be reloaded on the fly, in the dark.
A processor in the back of the building that reeked of chemicals and ruined at least one story a week.
You had to carry change for pay phones and dictate your script from the field. It took forever.
And I loved it.
They paid me so little I think I ate meat maybe once a week. Six years later, when I finally made it to an on-air job at CBS, I worked from midnight to 8 a.m. for two years anchoring news on the radio.
And I loved it.
If you're passionate about learning what's really going on, if you delight in telling great stories, there couldn't be a better time for you to get into journalism.
Frankly, I'm tired of the moaning and groaning about the future of newspapers. If they stop printing news on dead trees, I'm sure we'll think of something else to put in the bottom of the birdcage. I'm much more interested in the future of journalism and I think it's bright.
The tools you have at your disposal have never been better. The information you need has never been more accessible.
Yes, there are fewer jobs available at news organizations. But you don't need to work for one to do great journalism and have it seen by a wide audience.  In fact, the Internet makes your potential audience almost unlimited. That's a little scary…but very exciting.
You'll need more skills than we did, though. When I applied for reporting jobs, no one expected me to be able to shoot and edit video. It will be expected of you, whether you work for a traditional news organization, a website or for yourself.  And frankly, that's exciting, too.
You can tell stories in words and pictures, in maps and graphs that bring data to life. You'll be the ones inventing new ways of providing information and connecting people, just as the Des Moines Register did after a tornado wiped out a third of a nearby town last year. Their coverage of what happened to Parkersburg combined shoe-leather reporting with crowd-sourcing, their online package merged text and video with interactive maps. And they created a database of homes damaged or destroyed so they could track the rebuilding process over time. They're still doing it.
You will be the ones finding new ways of funding good journalism, like Dave Cohn did when he launched Spot.us. The idea of asking the public to sponsor journalists to cover stories they'd like to read about struck some people as either a pipe dream or a recipe for trouble, with funders having too much influence over what gets reported. But it's working. Last month, a Spot.us funded story about pollution in the Pacific Ocean ran in the New York Times. More than a hundred people gave an average of ten dollars each to make it happen.
You'll be the ones discovering new ways of using social media whether it's Facebook or Twitter or something yet to come. If there's one area news organizations and other media-related businesses are hiring in, this is it. According to Forbes magazine, about 200 social media directors have been hired in the past two years at newspapers, book publishers, magazines and television news stations. Sky TV in England even has a Twitter correspondent. Who knows what jobs you'll create?
You understand what many journalists who've been in the business a long time resist—our role is different now. I've heard it described as moving from being "the sage on the stage to the guide on the side."  There's no point in trying to be a gatekeeper when information is all around us. There's no fence any more. Why on earth would we need a gate?
Phil Meyer, one of many great journalists and teachers associated with this school, put his finger on it years ago. In the old days, information was in short supply. Now, we're swimming in it. What's in short supply these days is attention. We're pulled in every direction—email, cell phone, television, social media—and six browser tabs open at the same time. At least, that's what's was going on in my office last week as I was thinking about what I'd say this morning.
So our role has changed, and I feel sure that you will be the ones to take advantage of the endless possibilities. You'll launch hyperlocal news sites that combine the wisdom of the community with investigative muscle to hold the powerful accountable. And you'll make a living doing it.
You might want to build your business chops or learn some programming skills to boost your odds of success. You'll definitely need flexibility and a strong desire to keep learning.
But for all the change that's coming at us at hyper-speed these days, some things stay the same. The core values journalists have always needed to bring to their work have not changed and never will.
Curiosity.  A good journalist is always astonished by the obvious.  Take nothing for granted. Always ask why. And listen to the crazies—don't hang up on them or delete their emails immediately. You never know. They might be right!
Commitment.  Don't give up. Even if a story doesn't pan out right away, stay on it, collect string, look for evidence.  Do not be easily intimidated or deterred.  Be tough.
Caring.  That may sound counter-intuitive, but journalists, at heart, are do-gooders who just happen to hate math.  Care about your work, care about the people you cover, care about your audience, care about getting it right. If you don't care, why would anyone else?  Ring Lardner put it this way: How can you write if you can't cry?
Courage.  I know, Dan Rather made the word a joke when he used it as his sign-off for a brief time.  But great journalists need to be courageous, to get past the obstacles thrown in their way and to tell stories people may not want to hear.
It took courage and commitment for a television reporter at WWL in New Orleans to investigate the city's non-profit housing agency that was supposed to help poor and elderly victims of Hurricane Katrina. What he found prompted a federal investigation of its misuse of funds.
It took curiosity and caring for a reporter at the Las Vegas Sun to expose the high death rate among construction workers on the Strip and the lax enforcement of regulations, leading to changes in policy and improved safety conditions.
In a time of shrinking resources, cutbacks, layoffs and questions about the future of journalism, WFAA television in Dallas won the first ever Gold Baton for a local station in this year's DuPont-Columbia awards for three outstanding investigative stories.
Byron Harris uncovered corruption and waste at the U.S. Export-Import bank, making fraudulent loans to Texas companies. Brett Shipp exposed how coaches, principals and teachers change grades for high school athletes so they can qualify to compete even though they're failing in class. And Shipp's examination of the danger of aging gas pipelines forced the companies involved to remove faulty couplings to prevent more explosions and possibly save lives.
These are the kinds of stories that make a difference and win awards. They're traditional journalism at its best and we should celebrate it. But we should also celebrate the work of Jacqueline Dupree, whose blog JD-Land covers the area around the Nationals baseball park in Washington, DC. She's not a journalist although she does work at the Washington Post where she runs the company intranet. At heart, she's a historian, and she decided almost ten years ago to chronicle the transformation of a neighborhood two blocks south of where she lives. Almost four years later, when the ballpark plan was announced, her blog traffic went off the charts.
JDLand features stories from news organizations, links to original documents and databases, and a zippy interactive neighborhood map along with an extensive photo archive. And Dupree also does a lot of independent reporting, covering government meetings in her spare time that almost no one else attends. "It's 'news over the fence,' what people are talking about," she says. "The paper can't cover all of that. Just because they can't doesn't mean it's not news."
Lately, she's been writing about plans to open a "fast casual" restaurant in the area, which has almost no sit-down dining. It may seem trivial but it's important to her readers. She's one of the few dependable sources of information about a neighborhood the big paper mostly ignores. Is she a journalist? You bet she is. She doesn't traffic in gossip, she checks her facts, she keeps her personal opinions to herself. She's legit because she does journalism.
That's where we're going. To a future in which journalism is what you DO, irrespective of where you do it. To a future in which your credibility depends on HOW you do what you do, not where you do it.
A journalism professor wrote in the most recent issue of the SPJ magazine Quill that he'd talked to some of his students about what they thought about the future. One student put it best, I think: "The future is terrifying and I'm excited to write about it."
Yes, you're taking a risk by going into a field that's so unsettled. But what else is new?
The truth is, this profession needs risk takers…and always has. It needs skeptics who question everything…and it needs idealists who believe that asking questions can lead to change. And it always has.
Journalism is a noble profession.  For many of us, it is a calling.  A public service.  It needs you, the best of the next generation – to practice it and protect it.  As long as you have what it takes: curiosity, commitment, caring and courage, journalism will survive, and even thrive.
Congratulations to all of you…and good luck!
You might also like
---