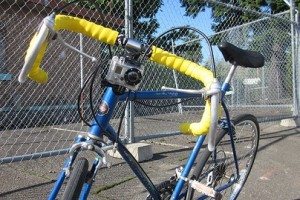 It's the latest "must have" gadget for TV news, or so it appears from all the references I've heard lately to the GoPro camera. Small, rugged and light-weight, it shoots in HD and sports a wide-angle lens so it goes where other cameras can't.
It's often used for "point of view" video, which is what it was designed for, after all. Two of the top-selling models are the Helmet and Motorsports versions, cameras the company bills as "wearable" and "mountable."
WJZ reporter Mike Schuh is a recent GoPro adopter. He'd never used a GoPro until he was sent out on a story this fall about firefighter training that involved working in very tight spaces. Having seen what he was up against, Schuh ordered the camera on the spot and used it to get shots he never could have captured with a full-sized camera.
Photojournalist Brandon Whitworth of WKYT in Lexington, Ky., used a GoPro for the first time last week for a story about the hazards emergency responders face on the road:
How did he get all those angles? "I was shooting inside the cab, and I had one GoPro that I mounted on the various spots on the truck," Whitworth said. "Every other time we stopped I changed its location."
People who have used the GoPro say the key is to use the video shot with it sparingly. "Sometimes the angles are too different and call attention to themselves," says KGO reporter Wayne Freedman.  But he also says the camera comes in handy at times. "Due to the wide angle, it can capture some very unique, up close perspectives."
Freedman used a GoPro to get the opening shots in this story:
Reporter Garvin Thomas, who works for KNTV in San Jose, used a GoPro in an underwater housing attached to a light stand to get some key shots for this story:
Photographer Dan Fox of Citizen Pictures, formerly with KCNC in Denver, notes that the wide angle of the lens depends on the HD mode, which is selectable on the latest model GoPro2. "In 1080 mode, the angle is not so extreme. In 720, it's fisheye, so for mounting on bikes, cars, surfboards, etc, it's useful, but in 1080, it's a more normal looking image."
Bottom line? "GoPro doesn't make your story better," says Detroit Free Press photojournalist Eric Seals in an article in the latest NPPA News Photographer magazine. "It adds a visual hook to your story."
If you're thinking about getting a GoPro, here are some additional tips from Seals and other photojournalists:
Use top-of-the-line SD cards to ensure a good capture
Shoot sparingly so the download doesn't take forever
To improve the audio, remove the camera's plastic housing
A monitor is essential if you want to see what you're shooting
Other accessories worth considering: a chest-mount harness and a rollbar mount
The GoPro isn't the only small HD camera photojournalists are using in the field. Others include the Canon G12, the Sony Cybershot DSC-WX9, the Canon Elph 300hs, Contour and Iconix.
Are you using a small HD camera to shoot elements for TV news stories? Please share your experiences and tips!
You might also like
---