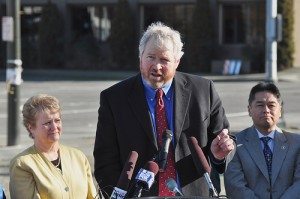 The mayor of Seattle is telling local TV stations to back off. In Georgia, the governor's office went so far as to ban an Atlanta station from a public event. What's going on here?
Elected officials often don't like the way they're covered but they usually put up with it. After all, they're on the public payroll and media coverage goes with the territory. But last week, in a 24-hour period, politicians on both coasts had it out with television journalists who cover them.
In Seattle, KOMO reports that the mayor's office sent an email to the local television stations telling them not to crowd around the mayor at press events or try to reach him at home.
The email was sent shortly after a group of reporters and photographers approached McGinn at a Friday morning event to ask him about his appointment of a bicycle club leader to fill a $95,000-per-year transportation policy post. That impromptu question-and-answer session came the morning after a KOMO News reporter and photographer went to McGinn's house at 9:05 p.m. to see if he was available to talk about the surprise appointment.
The email included this screenshot:
That's helpful, right? My guess is that most people who saw the email had a good laugh and went back to work. But what happened in Georgia wasn't so funny.
According to the Atlanta Journal-Constitution, the governor's press office was angry about a story by WAGA's I-Team that a fundraising firm hired by the governor was connected to his daughter-in-law. So the next day, state troopers blocked a WAGA crew from covering a public bill signing.
Both the mayor and the governor may have legitimate complaints with their local stations, but their reactions seem out of line, don't they?
You might also like
---