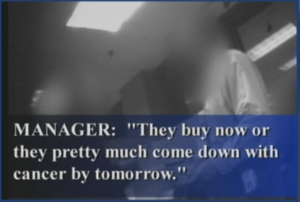 The video is black-and-white and grainy, but it makes the case. A manager at a company selling what it claims is health insurance instructs employees on what to tell prospects on the phone: "Tell them any f—ing thing," he says.
Reporter Jeremy Finley's story for WSMV-TV in Nashville about United Benefits of America eventually put the company out of business. Federal and state investigations led to a settlement that paid more than $1 million to victims. It's one of several reports he's done that have featured video from hidden cameras but he says those stories are exceptions, and most of his investigations are based on more traditional methods of reporting.
"We use [hidden cameras] if we can't find any other way to prove something," Finley says. "So we're not just asking viewers to take our word for it. Even when we have public records or documents, [undercover video] is the ultimate proof."
The decision to use a hidden camera has to be approved by the station's news director and its attorney. Video may be shot by WSMV staffers or by volunteers but "we can not pretend to be anyone we are not," Finley says. (That's what got ABC's Prime Time Live in such hot water for its Food Lion investigation, you may recall. ABC producers shot undercover video after getting jobs at the store, but they had lied on their applications and were held liable for breach of loyalty and trespass.)
At WSMV, no video makes air without being run by the person involved. "It's just not fair or accurate and you're asking to be sued," Finley says. In fact, in more than one instance, stories have been spiked after the station learned there was a reasonable explanation for behavior that appeared to be questionable when caught on tape.
The station uses all kinds of cameras to capture undercover video–button cameras, pen cameras and even iPhones. "So many people carry them, you can use them without suspicion in a public place," Finley says.
Here's one of Finley's stories that relied on hidden cameras. In this case, the video was shot from inside an unmarked van with dark-tinted windows:
Hidden camera video clearly made that story stronger. The court clerk was forced to resign. But, as Finley says, the decision to go undercover should never be taken lightly. My Poynter colleague Bob Steele likes to put it this way, "Hidden cameras are not unlike weapons and power tools that should be kept away from the unskilled and the reckless."
You might also like
---