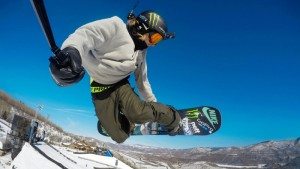 It's obvious that GoPro cameras are great for shooting sports, but that's hardly all they're good for. Solo journalists like KUSA reporter Matt Renoux use them for daily news.
"Of course, they don't have the same quality as a $30,000 news camera," Renoux told Steamboat Today, "but they are nice because they are small, durable and can be used to get a different perspective."
Among other things, Renoux uses his GoPro for creative standups.

(Sorry for the autoplay–not my doing!)
GoPro recently announced plans for a wireless transmitter that will let stations broadcast video live from their Hero4 camera. If you watched the Winter X Games on ESPN, you may have seen the new technology in action. Several athletes wore helmet cams with transceivers that sent signals to ESPN's truck over dedicated radio frequencies.
Details and pricing of the new system being developed in partnership with Vislink are to be announced this spring. But you don't need to wait for it to go live from your GoPro.
Photojournalist Michael Johnson of KWTV in Oklahoma City shows how he does it, using the free Live4 GoPro app and his iPhone.
Thanks to the TV Storytellers group for tipping us off to Johnson's video.
You might also like
---