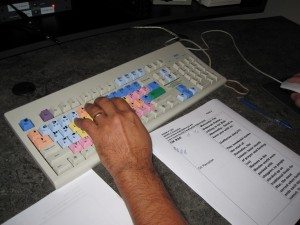 Digital editing allows you to do amazing things with video, but NPPA editor of the year Josh Shea urges editors to show restraint.  He did just that in his winning entry, according to the judges: "This editor made great storytelling choices that did not draw attention to themselves." Shea of KCNC-TV in Denver was one of my fellow instructors at the 2007 NPPF Airborne TV Seminar in Rochester, N.Y., and Des Moines, Iowa. His advice is simple: keep it simple. Pay attention to screen direction, avoid jump cuts, and don't worry about developing an editing "style."
I don't have a style. Stories have a style…Good stories are not about me or the photographer. They're about the people in the story.
Shea advocates what he calls "referencing" video, which he calls "the simplest way to make your story better." What's he talking about? Listen to my interview with Josh:
You can watch Josh's winning entry here.
You might also like
---