You can't help but notice when short video loops or animations pop up in your social media channels. They're designed to draw your attention, and they do.
It's time to get over yourself and get on board with Harry Styles https://t.co/LERM5ebV8k pic.twitter.com/18lL38CXxB

— BuzzFeed (@BuzzFeed) April 23, 2017
GIFs (images in graphics interchange format) have been around for 30 years but most newsrooms don't use them. Maybe that's because so many GIFs are just plain silly or convey an attitude that makes newsrooms uncomfortable. Fair enough. But why reject an entire format just because you don't like what other people do with it?
A GIF allows you to isolate a key piece of video and set it up to play over and over on social media. You can showcase a short segment that viewers might want to see again, and add context to it in a tweet, with a link to more background. For example, when British Prime Minister Theresa May visited the White House, President Donald Trump took her by the hand and social media lit up.
It really is a special relationship! Donald Trump and Theresa May walking outside the White House holding hands! pic.twitter.com/AsYcDVsugp

— Matt Dathan (@matt_dathan) January 27, 2017
Why not share a GIF of the video in addition to still photos? GIFs are surprisingly easy to make with free online tools.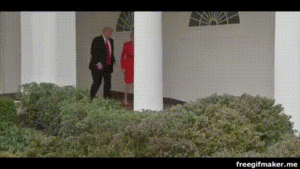 Giphy creates GIFs from online video including Vine and YouTube. You can give credit to the original source in a tag, and share the video to Twitter, Facebook, Instagram and other social sites. You can also download what you create and embed your video on the web. Giphy keeps an online library of GIFs made with its app. Plus, Facebook just announced a partnership with Giphy, so you can now add animations to photos and live video on Facebook.
Free Gifmaker uses much same process. It also has a built in effects generator to create animations from still photos you upload.
Public Radio International uses GIFs as what Steven Davy, multimedia editor for the PRI program The World, calls "conversation starters." He talked to RJI Futures Lab about the process and the thinking behind it.
Britain's Channel 4 experimented with bite-size GIFs for about a year, featuring them on an independent Tumblr page. The goal of the "4 News Wall for condensed news" was to attract a younger audience–the target was 16- to 34-year-olds . It doesn't seem to have worked as designed, however. The page is still online but it's gone inactive.
If you're using GIFs for news, send us a link so we can highlight what you're doing!
You might also like
---