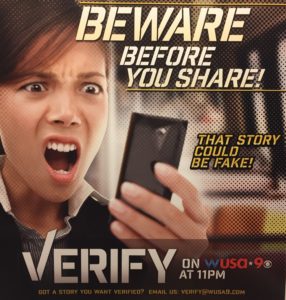 We all know what's happened to trust in the news media.  It sank to a new low in 2016, according to Gallup, with just 32 percent saying they have a great deal or fair amount of trust in what they see in the news media. What's to be done?
First of all, don't panic. This didn't happen overnight. "Well before our current president took office there was a problem with trust in the media," says Ellen Crooke, vice president of news at TEGNA.
Secondly, take heart. People are skeptical of the media in general but they have much more trust in the media they personally rely on for news, according to research by the American Press Institute.  And the news medium they trust most hasn't changed: local television. "Viewers believe — and enjoy watching — local news anchors and reporters on television," according to research from Coda.
That good news doesn't mean local TV newsrooms can sit back and relax. Far from it. Retaining trust is just as much work as regaining it.
One effort to bolster trust between local audiences and TV newsrooms got underway at TEGNA stations during the May ratings period. "Verify" is a regular feature that fact-checks what viewers are seeing and hearing elsewhere. The ownership group offered training on fact-checking and put together a guide for stations, but each news director got to decide whether to join in. All of them did, and Verify segments now air in all 38 of TEGNA's markets.
"We ask viewers to tell us if there's something they wonder is real or fake," Crooke says. "We're fact-checking, daily, what people are seeing on social media, hearing from politicians, or a photograph Uncle Joe has shared."
A lot of what's posted under the Verify banner might be categorized as a hoax or "urban legend." Do mosquitos really bite some people more than others? (Yes.)  Is Delta really offering free flights on Facebook? (No.) Jacksonville, Florida, station WTLV was the first to debunk a viral Facebook story that a baby had been born with an IUD in its hand.
Those kinds of stories have long been fodder for the independent site Snopes, which has been fact-checking rumors since 1994. But Crooke believes Verify will help to restore trust in the news media because it's produced by local journalists with community connections.
Instead of just complaining about fake news we are doing something about it. We're doing our jobs better and not just by saying that, but by doing something. When we verify what your mayor says, that's where trust is going to come back to journalism.
Denver's KUSA checked statistics cited by the mayor in his state of the city speech and found several had been taken out of context. Atlanta's WXIA looked into a report showing the number of rapes in the city had almost doubled in one year. Turned out the police department had changed what crimes counted as rape. In Austin, Texas, KVUE forced Forbes to revise a list of "best cities for young professionals" by checking the magazine's math. It didn't add up.
One hallmark of these reports is transparency. "We show our sources up front to help people trust us more," Crooke says. "Real people don't trust us that much. They want to see where we're getting our stuff from. They want to know how we are balanced, how we're checking ourselves."
In its first six weeks online, Verify logged more than 4 million unique visitors and almost 6 million page views across all TEGNA stations. Crooke says that's a clear indication that the audience wants more.
One feature is just a start, of course, in the effort to regain the public's trust. Crooke says tough investigative stories that help communities find solutions to problems are another way of reaching the goal.
Are you involved in or aware of other initiatives by local TV stations that are expressly designed to restore trust? This trust toolkit by Josh Stearns offers lots of options. Let us know if you're trying any, or if you're doing something else. Doing nothing, I would argue, is not really an option.
You might also like
---