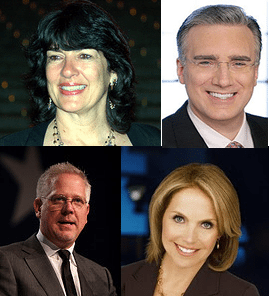 Who's counting? Everybody, it seems, at this time of year. Everywhere you look, there's a top 10 list for the year's best and worst, so why should journalism be different? And why reinvent the wheel? Instead of creating our own 2011 rundown, we've put together a meta-list with a few additions and comments.
This was the year that Al Jazeera English made its mark in the U.S. with its coverage of the Arab Spring, says the Huffington Post. It was also a terrible year for NPR, as top bosses were ousted and the network got a big story terribly wrong–falsely reporting the death of Arizona congresswoman Gabrielle Giffords.
Biggest interview scoops of 2011? HuffPo gives credit for most of its top 10 to TV networks, with ABC in the lead for snagging the first interview with Giffords, among others. Also on the list, NBC's Bob Costas' interview with ex-Penn State coach Jerry Sandusky, which Costas later said came as a complete surprise and was set up at the last minute by Sandusky's lawyer. Maybe it belongs in a different category: scoops that fall in your lap.
In television, it was a year of departures, says Tom Jicha of the Ft. Lauderdale Sun-Sentinel. In TV news, he highlights the end of Katie Couric's less than stellar five-year run as anchor of the CBS Evening News. I'd add a few more.
So many anchors and reporters left CNBC this year, one critic wondered about "brain drain." And there was one more memorable departure–Andy Rooney, the longtime curmudgeon-commentator for CBS's 60 Minutes, died in November.
Broadcast-related entries on Mashable's list of top digital journalism events include the rise to Twitter stardom of NPR's Andy Carvin and a new emphasis on mobile delivery, calling CNN's acquisition of the iPad app Zite "arguably the biggest mobile move by a news organization."
The list of biggest journalism gaffes of the year, courtesy of HuffPo, includes several recent whoppers, including Fox News' use of an Obama photo to illustrate GOP poll results and NBC's Chuck Todd flipping the bird on air. There were plenty of local screw-ups too, including the Minnesota anchor whose slurring newscast video went viral who was later arrested for DWI. And the Minneapolis station "investigation" that claimed dog meat was for sale in New York's Chinatown apparently based on a reporter's having misheard the word "duck."
For my in-depth take on more serious trends in local TV news, you'll have to wait just a bit longer. I'm writing that chapter again for the Project for Excellence in Journalism's annual report, The State of the News Media, due out in March.
You might also like
---