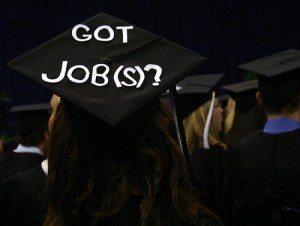 Has there ever been a worse time to be looking for work in the news business? I can't think of one, and I've lived through other recessions that forced newsroom layoffs, like the painful cuts at CBS in the 1980s. So what can you do if you're in the market for a job or just trying to hold on to the one you have?
Think like a freelancer.
Even if you still have a job, prepare for the day when you won't, says Barbara Feder Ostrov, a former reporter for the San Jose Mercury News who was laid off unexpectedly in 2008. Copy everything to a personal account–your contact list, emails and documents–because you could lose access to them at a moment's notice.
Create a profile on a social networking site like LinkedIn and set up your own Web page or a showcase for your work online, using a free service like Visual CV or Resume Bucket. Make sure you have an email account that isn't managed by your employer. You might want to have your own mobile phone number as well. Get business cards made now. Be ready for the worst.
Kim Fatica, a TV photojournalist who spent several months out of work this year, advises not using the word "unemployed" when you're looking for freelance gigs. "Remember that you are now 'self-employed' and must project a positive image to potential clients," he says. "When you are labeled as self-employed you are seen as having motivation, a willingness to be a self-starter and resourceful individual."
Brand yourself.
Who you are is just as important as what you know when it comes to getting and keeping a job. Who you are is your personal brand, says consultant Terry Heaton who writes a blog on media issues, and journalists should take it seriously.
If you're just beginning to build a personal brand, Heaton suggests that you pay close attention to "people of influence" in your social or professional networks, because they're the ones who will spread your reputation. "Get to know them. Remember them. Help them. Stay in contact with them. This strengthens your brand."
As a working journalist, Ostrov says, "I didn't want to go on TV public affairs programs, talk to community groups, moderate panels, or teach classes," she said. "But I did it, and it was those things that gave me the connections to get freelance work." Her advice: Go out and be on every panel you can to become recognized as an expert in your field.
Be a journalism entrepreneur.
During a recent Poynter live chat on job hunting, several people suggested that both current and aspiring journalists need to consider creating their own jobs. That could mean developing business skills and finding ways to apply their journalistic values outside of newsrooms in innovative ways.
If you're looking for a journalism job and can't find one:
Get a job outside of journalism that permits you to use your journalism skills and then do freelance journalism on the side until the job market gets better.
If you can't get paid work in journalism, continue to keep your portfolio fresh by offering to produce content for news outlets that are open to "user-generated content."
Keep your head up.
Looking for work almost inevitably means facing rejection, especially in this economy. No matter how good you are, you're not going to get every job you apply for. How can you keep from becoming discouraged?
KSTP's John Gross says the answer is to focus on your goals, not your problems. "If you look at your problems, they get bigger," Gross says. Keep your eye on the goal, he advises, because "you get what you look for."
Keeping a positive attitude isn't easy, of course, but you can pick up a few tips on how to do it from people who face rejection daily–sales people. Jennifer Krinsky, a recruiter for Porter Group, tells the Washington Post, "Rejection is the price you pay for success." How does she handle it? By not taking it personally and not dwelling on it. Yes, there are times when it really hurts. On those occasions, Krinsky says, she allows herself a "two-minute pity party" and then moves on. Sounds like good advice.
Don't feel trapped.
If you do have a job, you may be under more stress than ever, especially if you're feeling stuck in a place you don't want to be. Career consultant Barbara Herzog advises that you take the time now to make yourself more marketable. Take advantage of training opportunities or take courses to learn new skills and enhance your credibility.
Training that enhances your multimedia know-how or your business savvy could pay off with your current employer or in the freelance world. At the same time, the journalism skills you already have make you more valuable than you may think, as Poynter's Jill Geisler points out, if you've decided to look for work outside the news business.
In these difficult times, it can also help to look inward. Remind yourself of the things you love about your job and the reasons you do what you do. Journalists don't go into the news business for the salary or the working conditions, right? If you can find one thing to feel good about at work every day and focus on that, you may be able to keep your job in perspective–and keep your job, period.
You might also like
---